An exciting part of the Amazon Prime Day sales is waiting for that major bargain to drop. And this, ladies and gents, would be that star item: a 43-inch 4K Amazon Fire TV for a mere $99.99, rated at 4.5 out of 5-stars on Amazon's site. Yes indeed, a 2023-release TV for under a hundred bucks!
It's not as if its original price was marginally different, either, as this Amazon Fire TV has a massive 75% slashed from its list price, cutting it down from almost $400. And while I won't pretend it's going to top T3's list of best TVs ever made, when it comes to a budget buy there's obviously immediate appeal, as this is an up-to-date QLED panel TV.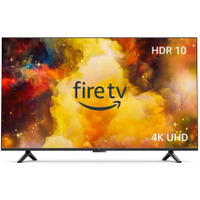 Amazon Fire TV: was $399, now $99.99 at Amazon
A star deal of the Amazon Prime Day sales, this Amazon Fire TV is a quarter of its usual price. It's laden with features, too, offering 4K resolution and high dynamic range (HDR) pictures, a built-in easy-to-use smart interface with access to all your favorites, and Alexa voice control too.
It was back in October 2022 that Amazon launched its Omni series tellies and we were impressed by the announcement. These house quantum dot displays with multi-zone local dimming for far better image quality than the lower-down-the-pecking-order Fire TV 2-Series and 4-Series models.
There's even an HDMI 2.1 port for high-quality gaming, which also acts as eARC so you can pair with one the best soundbars for ideal audio return that's neatly in sync. That's a lot of features for not a lot of money, really highlighting this Omni deal as a total steal. I can't imagine supply will be there for the demand, put it that way.
It's well worth checking out T3's other Prime Day deals, too, as in addition to TV star-buys such as this one, there are plenty of other offers on phones, laptops, home tech, and all manner of other products. Just be quick, as Prime Day is done and dusted by the end of 12 July...