If you're on the hunt for the best smart speaker, chances are you'll land on a device made by Amazon. Their range of devices are affordable and intuitive, offering users a low-cost way to kick-off their smart home.
The Amazon Echo Pop is the latest addition to the range. Launched in May, the semi-spherical design is intended to fit into stylish living spaces without appearing out of place. And, despite being a relatively new product, it's one of the best Amazon Prime Day deals right now.
You can snag this quirky smart speaker for just £17.99 right now – that's 60% less than retail! That means you can pick up a useful home device – complete with voice assistance, music streaming capabilities and more – for less than the cost of a trip to the cinema.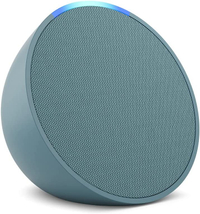 Amazon Echo Pop: was £44.99, now £17.99 at Amazon
Save £27 on the new Amazon Echo Pop – just £17.99 in the Amazon Prime Day sale. You'll get a stylish, capable smart speaker – all for less than the price of a round of drinks!
That's a ridiculous deal. A smart speaker is often the first smart device many users have in the home. They're well designed to act as the hub of your smart home, offering control over other devices you add on in the future.
Even if you don't have plans for an Ironman-esque living space, though, it's a great buy. I've used mine for years. It's my alarm clock and my radio, and even lets me know whether or not it's going to rain when I wake up.
For less than £20, it's an invaluable addition to your life, offering a hands-free option for completing simple tasks. What's even better is that you're getting a deal that good on the latest – and arguably, best looking – model.
Oh, and that's not the end of it. If you fancy going a little further on the smart home side, there's a deal on where you can grab the Echo Pop with a Ring Video Doorbell for just £59.99! That's an £85 saving, and offers everything you need to kick off a home designed for the 21st century.