You've more than likely heard of the Amazon Echo smart speaker range. Ranging from the Amazon Echo Dot to the Amazon Echo Studio, they are able to make anyone's smart home easy and pleasurable to manage. It therefore wouldn't be a total shock if I told you that they occupy four out of ten spots on our best smart speaker guide. One of the latest Amazon models, the all-new Amazon Echo Pop, even saw the range take on a stylish new look.
Well, it was announced today that Amazon has brought down the price of the Amazon Echo Pop from £44.99 to an incredible £24.99. We're currently not sure how long it's going to last but Amazon have applied the discount to each of the colours, which hopefully means the discount will be around for at least a few days! The colours available are Lavender Bloom, Midnight Teal, Charcoal and Glacier White.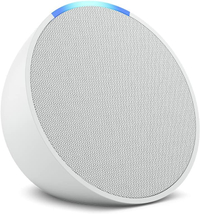 Amazon Echo Pop: was £44.99, now £24.99 at Amazon (save £20)
Save 44% on the Amazon Echo Pop in all colours. This compact Bluetooth smart speaker with Alexa features a full sound that's great for bedrooms and small spaces. It's small enough to blend in but mighty enough to stand out!
There are also a range of Echo Pop sleeves which can add an extra pop of colour or allow you to switch things up whenever you'd like. These are available on Amazon and come in red, orange, pink, purple, navy, black and a glow-in-the-dark option.
Why should you buy an Amazon Echo Pop?
There are a whole host of reasons why any smart speaker in the Amazon Echo range is worth buying, especially the Amazon Echo Pop. Like the rest of the range, you're able to control the Amazon Echo Pop via voice control. You can ask Alexa to play music, audiobooks and podcasts from your favourite providers like Amazon Music, Apple Music and Spotify, or use it easily control your other smart home devices like plugs or lights.
Alexa also has a huge amount of skills, including list-making, testing your music knowledge and providing you with jokes when needed. Check out these 8 Amazon Alexa commands you probably didn't know about to find out more!
The Amazon Echo Pop is also specifically designed to protect and safeguard your privacy. It's built with multiple layers of privacy protection and control, including a Microphone Off button that electronically disconnects the microphones.
If you're big on sustainability, then the Echo Pop would also be a great choice for you. Its made from 100% post-consumer recycled yarn and 80% recycled aluminium. 99% of its packaging is made of wood fibre-based materials from responsibly managed forests or recycled sources.
There's also a Low Power Mode on the device. This conserves energy during periods of inactivity, making it easier on your energy bill. It definitely wouldn't have a space on our list of the vampire devices in your home, that's for sure!
Have we managed to convince you? If so, have a look at our guide on how to start a smart home with Amazon Alexa so you'll know where to start!