While it may not be the most glamorous Amazon Prime Day deal, there's one product I'm looking out for this year. I've been on the hunt for a smart curtain opener for a while now – and this seems like the best time to buy.
My theory is that I can set my curtains to open at the same time as my morning alarm, which should make it a little bit easier to be up bright and breezy for those shifts at T3 Towers. Sure, I could use a wake-up light, but the natural glow must be better, right?
Well, I hope so. Because I've just spotted this brilliant deal on a SwitchBot Smart Curtain Opener, and it's going straight in my basket. This Prime Day, you can snag the device for just £63.75 – that's a 25% saving.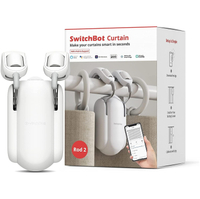 SwitchBot Smart Curtain Opener: was £85, now £63.75 at Amazon
Save £21.25 on the SwitchBot Smart Curtain Opener this Amazon Prime Day. Now, you can automate the opening and closing of your curtains for even less – great for waking up to the natural light of the outside world.
The SwitchBot offers a range of different control options. Using the app for iPhone or Android phones, users can simply tap the button in the app to open and close the curtains. A slider in the app allows for partial opening, and also gives you the option to schedule opening and closing of the curtains.
What's more, the light sensor built into the device can allow you to automate based on the light level, rather than the time. For example, you could open the curtains at sunrise, or set them to close over a certain light level, to keep rooms cooler.
They don't stop being... erm, analogue(?) curtains, either. Pull gently on them – just as you would to manually open them – and the SwitchBot will recognise the change in pressure, and finish the job for you.
At this price, it seems like a no brainer. In fact, it's exactly the kind of product you should use to kick off your smart home – a relatively inexpensive device, which is easy-to-use and fulfils a genuinely useful purpose.