Whilst building a smart home sounds rather technical, it really isn't as complicated as many people think. That's one of the best things about smart home products - they're designed to make your life easier, not harder! However, at T3 we understand that entering the smart home world can be a little daunting, which is why we love to produce guides that will help you along your way. Make sure you check out how to start a smart home with Amazon Alexa and how to start a smart home with Apple Home if you're interested!
Another way we like to help is through our budget guides, specifically focused on helping those looking to start a smart home under a certain price point. We've already covered how to build a smart home under £50, under £100 and under £200, and now we're back with how to build a smart home for under £300. Remember, it takes just the one product to set you on your way...
1. Philips Hue Sync Box and Bridge Bundle (£279.98)
This Philips Hue bundle is a personal favourite of mine and I'd recommend it to anyone, especially if you're a gamer or love a movie night. Whilst you'll still need a selection of Philips Hue lights for the bundle to work, it's the Hue Bridge and Sync Box that pulls them all together, creating your very own at-home entertainment system. Read what happened when I tried the Philips Hue entertainment lighting for the first time to find out more.
The Bridge isn't a completely necessary component, but you certainly get a lot more for your money when you do have one. Read our article Philips Hue Bridge: what does it do and is it necessary? for more information on this.
On the other hand, the Sync Box is necessary. The 4 HDMI ports allow you to connect your media devices to your Hue setup, resulting in a fast, seamless display of colourful smart light that responds to and reflects the content you watch or listen to. It can fit nicely behind your TV as well, blending in so it's not as noticeable.
The bundle is available from the Philips Hue website for £279.98 but is currently on sale for £265.98 at the time of writing this. See for yourself: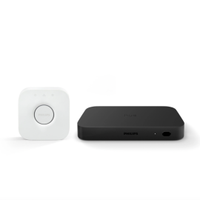 Philips Hue Bundle (Hue Sync Box + Bridge): was £279.98, now £265.98 at Philips Hue (save £14)
Unlock surround lighting! With a Hue Bridge and Hue sync box, you can watch as your lights change colour, dim and brighten along with the content on your TV screen.
2. Amazon Echo Show 15 (£269.99)
In our opinion, the Amazon Echo Show 15 is the best smart speaker for anyone who wants a smart display to sit at the heart of their busy home. Not only is it the first-ever wall-mountable Echo device with a 15-inch screen but it's also the first to include Alexa widgets, making it easier than ever to incorporate the display into your daily routines.
If you already own Alexa devices, the Echo Show 15 will automatically get hooked up to the rest of your smart home so you can control it all from there. You will also be prompted to create profiles for each member of your household, which includes facial recognition. If you own compatible smart security devices like one of the best security cameras or one of the best video doorbells, you'll be able to see a live view from it on this display as well.
It can either be mounted into your wall or propped up on a stand, and when you aren't using it, the Amazon Echo Show 15 transforms into a digital photo frame which is a really nice touch. The audio isn't as strong but its features certainly make up for it.
The Amazon Echo Show 15 is available to buy on Amazon for £269.99 but can also be purchased from other retailers, usually for a lower price as well!
3. LOQED Touch Smart Lock (£299)
The LOQED Touch Smart Lock is the first smart lock that can open and close your door with just one touch. Originally launched in the Netherlands, it's recently arrived in the UK, providing users a safe and secure way to enter and exit their homes without needing to use keys.
Combined with end-to-end encryption and digital signatures, the LOQED Touch Smart Lock uses the same standard as most banks, giving you peace of mind and making it harder for burglars and hackers to break into your home. It's also been awarded the highest achievable SKG*** certification.
The LOQED app allows you to send digital keys to your friends and family so they can enter your home while you're away. You can also easily assign and remove keys as and when you need to. Other smart features include Alexa, Google Assistant and other smart home ecosystem integrations with the Matter protocol set to follow towards the end of 2023. The LOQED Touch Smart Lock is battery powered and has an expected battery life of up to 12 months.
Available to buy on the LOQED website or at select retailers like Amazon, the LOQED Touch Smart Lock is £299 and comes in standard or black editions.