We're back with another budget smart home start-up guide today and let me tell you, we've got some good recommendations coming up. Whether you're in the market for some new smart lighting or the latest video doorbell, there are some great affordable options out there despite what people say. Before you keep reading, check out our guide on how to build a smart home for under £50 if you want to start even lower!
As we head into the colder months, there really is no better time to get your smart home set up, especially if you've been thinking about it for a while. A smart home is defined as a home that contains appliances and devices programmed to make your life easier, and what more could you want when the thought of leaving your cosy sofa becomes more and more painful.
We've therefore come up with three top products that you can begin your smart home with, all costing under £100. Just because you want the best, doesn't mean you have to pay for the best!
Before we jump in, have a look at 3 smart home devices you can use that will save you money on your energy bill.
1. Flic Twist (£66)
Flic made some big news last week after it announced that their long-awaited smart home button was finally available to purchase. The Flic Twist is a button that you can push, double-push, twist, and push and twist to control any connected device, making it a perfect start-up device for any smart home. It's wireless, has replaceable batteries, and can be placed anywhere.
The Push is able to trigger events, from toggling the lights to activating Alexa Routines. The new Rotation interaction helps to adjust and perfectly tune the atmosphere, from the brightness and colour of the living room to the volume of the Sonos speaker. Whilst rotate can dim the lights in a specific room, Push-Rotate can dim the entire house. Push-Rotate allows for many possibilities with features that can blend between scenes or setting up to 12 custom triggers for advanced users.
The Flic Twist does need a hub to make it work outside of a Bluetooth connection to your phone. However, Flic have also announced that it's launching a cheaper hub, the Flic Hub Mini, to stay on trend with its accessibility priorities. We'll update this as soon as it's released so you know where to find one.
You can now preorder the Flic Twist on Flic's website for £66 ($80), reduced from an RRP of £73.33 ($88.88). The Twist is available in white, black or a white/black blend.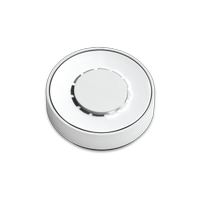 Flic Twist Smart Home Button: was £73.33, now £66 at Flic (save $7)
A one-of-a-kind smart home controller. Packed with features and fully configurable for advanced users yet accessible for everyone in the family. Push, double push, twist, and push & twist. Each feature unlocks complete customisation of your lights, music, blinds, and all smart home devices.
2. Philips Hue Lightstrip Plus base V4 2 metre (£79.99)
You simply can't go wrong with Philips Hue lighting, and any of the lightstrips from their range are 100% worth purchasing. Whilst the lightstrip extensions are quite affordable, you'll need an actual base before you can start purchasing them, and the Philips Hue Lightstrip Plus base V4 2 metre is the cheapest base out of them all. As with all other Philips Hue products, you can unlock more features if you have a Hue Bridge, but it's not completely necessary if you don't want the extra cost! Read about the Philips Hue Bridge and what is actually does for more information on this.
The lightstrip is extremely easy to set up and use, and the Hue app allows you to easily change the colour and create automations at any time, making it a perfect mood setter for any occasion. It can also be paired up with smart home assistants such as Amazon Alexa, Apple Home, and Google Assistant. Priced at just £79.99, this lightstrip is a great way to introduce smart lighting into your home.
Still unsure? Read our guide on the differences between Philips Hue and WiZ smart home lighting to find out more.
3. Eufy Video Doorbell C210 (£99.99)
Eufy is an extremely well-known brand when it comes to the best robot vacuum cleaners, but it has also released some other great smart home products, especially related to smart home security.
The Eufy Video Doorbell C210 is one of its latest products, designed to compete with the likes of Ring or Google Nest. It offers a crisp 1080p-grade view of anyone who approaches your front door, alongside advanced WDR and 4:3 aspect ratio to ensure you get a colour accurate (and head to toe) image every time.
Unlike other smart video doorbells, you don't have to have a subscription to keep using the C210. Eufy security products are one-time purchases that combine security with convenience, so you don't have to worry about any extra hidden costs! Installation can be completed in minutes and without the hassle of complicated wiring, and the slim design ensures it can fit seamlessly onto any doorframe.
What's even better is that it's currently on offer for £69.99 if purchased with the promo code WS24E8222. Check it out: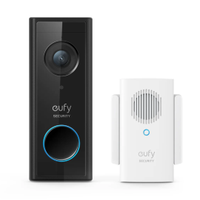 Why don't you check out some of our other smart home set up guides?
How to start a smart home with Samsung SmartThings
How to start a smart home with Apple Home
How to start a smart home with Google Assistant
How to start a smart home with Amazon Alexa