When it comes to building a smart home, the different ways to control it seem endless. If you're into Philips Hue lighting, then you've probably heard of a Hue Bridge. If you prefer your smart home assistants, then you'll be familiar with Matter...the list can go on and on. Well, we're excited to tell you that there's a new kid on the block.
Flic launched the Flic Twist smart home button on kickstarter back in 2021, but it's now been announced that the product is finally available for preorder. Whilst it has a similar design to the Philips Hue Tap Dial Switch, the Flic Twist has even wider compatibility. It's able to control many smart home devices, including Philips Hue, Spotify, Sonos, Ikea, Apple Home, Samsung SmartThings and Amazon Alexa.
When creating the Flic Twist, Flic wanted to make the smart home button as accessible as possible. Controlling smart home products such as smart lights and multi-room speakers often require the use of voice commands and apps, and it's common for users struggle with teaching and remembering voice commands or different apps controlling different devices. It's also tricky when a smart home app needs to be installed on each family member's phone for them to be able to work it, sometimes creating problems when one family member is more tech-savvy than others.
"98% of our users say that they set up their Smart Home while over 50% of them say that they experience problems instructing their families and guests how to control it. That's why they're using Flic Buttons and why we're excited to launch Flic Twist." said Daniel Abdiu, CEO of Shortcut Labs.
How does the Flic Twist work?
The Flic Twist is a button that you can push, double-push, twist, and push and twist to control any connected device.
The Push is able to trigger events, from toggling the lights to activating Alexa Routines. The new Rotation interaction helps to adjust and perfectly tune the atmosphere, from the brightness and colour of the living room to the volume of the Sonos speaker. Whilst rotate can dim the lights in a specific room, Push-Rotate can dim the entire house. Push-Rotate allows for many possibilities with features that can blend between scenes or setting up to 12 custom triggers for advanced users.
It is important to know that the Flic Twist does still need a hub to make it work outside of a Bluetooth connection to your phone. However, Flic have also announced that it's launching a cheaper hub, the Flic Hub Mini, to stay on trend with its accessibility priorities.
Flic Twist is wireless, has replaceable batteries, and can be placed anywhere. It can be placed on a table or mounted with a magnetic wall mount plate.
Flic Twist: price and availability
You can now preorder the Flic Twist on Flic's website for £66 ($80), reduced from an RRP of £73.33 ($88.88). The Twist is available in white, black or a white/black blend.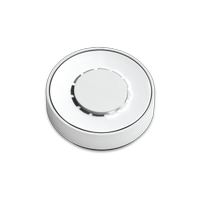 Flic Twist Smart Home Button: was $73.33, now $66 at Flic (save $7)
A one-of-a-kind smart home controller. Packed with features and fully configurable for advanced users yet accessible for everyone in the family. Push, double push, twist, and push & twist. Each feature unlocks complete customisation of your lights, music, blinds, and all smart home devices.
The smart home button is also available as a double pack (£123.00) or as a 4-pack (£229.00).
Interested in more? Read about why you need a smart home sensor for better security and automation!