Following on from the Amazon Prime Day sales, I've gone back to semi-normal work mode and, whilst writing a phone review and comparing against the superb Google Pixel 7, I noticed that the price of Google's smaller flagship handset remains at its lowest-ever price.
With a massive £156 off the list price, the Google Pixel 7 is now priced at a mere £443 – bettering a deal I'd previously seen on this handset back in April of this year. And having checked price-tracker site CamelCamelCamel it also verifies the handset has never been lower-priced than this. It looks as though the deal is good through to 18th July too.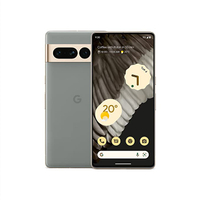 Google Pixel 7: was £599, now only £443 at Amazon
Don't miss your chance to snap up Google's superb little flagship for a cut of the typical price, now it's down to its lowest ever! It's got a gorgeous design and stellar yet simple-to-use camera that stands it apart from much of the competition. In the Snow finish it's the cheapest, if you would rather buy Obsidian then it'll cost you a few more quid, with the Sage option upping the price again.
Long seen as one of the best small phones and now clearly a contender for one of the best cheap phones given this price fall, I've long been a fan of the Google Pixel series. It's just Android done right – although it's the Pro model that's really charmed me, as I prefer the larger size of the 2023 T3 Awards-winning handset.
If you're looking for other Google-related discounts then there's plenty more to grab, too, with the company's Pixel Watch also at a massive discount (at £269). I think the Pixel 7 and Pixel Watch would make a perfect pairing for any Android fan, so if you're in the market for one of the best Android phones right now, but don't have a huge budget, then this is a great opportunity.
Google is putting on a strong show in 2023. From the all-new Pixel Tablet and super-pricey Pixel Fold, there's almost no stone left unturned in what the company is putting out. And now with value added in discount deals like this, it seems the hardware side of its business is only going to become more popular with buyers...