Calling all iced coffee lovers! With the warmer weather here to stay, we're all thinking about getting outside and enjoying cooler drinks. The Nespresso Vertuo Next pod coffee machine is currently on offer at Target and comes with a limited edition iced coffee bundle.
Originally priced at $239.99, the Nespresso Vertuo Next is now $168.99, saving shoppers $71 on this 5-star rated coffee machine. Alongside this pod and espresso coffee maker, you'll also get the iced coffee bundle which is exclusive only to Target.
View the Nespresso Vertuo Next deal
Shop the Target Spring Home sale
The Nespresso Vertuo Next is one of the best pod coffee machines on the market and received a huge 5 stars in our Nespresso Vertuo Next review. It's the smallest and most versatile Nespresso coffee machine which uses the latest Vertuo technology to make an array of delicious hot and cold beverages.
This premium coffee machine from Nespresso is extremely easy to use and is best suited to those who love espresso. While we weren't wowed by its lack of milk frother, this limited edition deal from Target almost solves all your problems with its iced coffee set.
The iced coffee bundle includes 10 iced coffee capsules, 10 iced double espresso capsules, 12 assorted coffee and espresso capsules, 2 glasses, an ice cube tray, pod recycling bags and a $10 off voucher, so you're really getting the most out of your money.
This limited edition deal is only exclusive to Target, so you won't find it anywhere else. To view the Nespresso Vertuo Next deal, click the link above.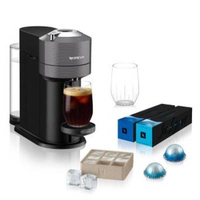 Nespresso Vertuo Next with Iced Coffee Bundle: was $239.99, now $168.99 at Target
Whether you're an iced or hot coffee fan, the Nespresso Vertuo Next delivers coffee house-worthy results. It makes coffee and other beverages in a variety of sizes (including 5, 8 and 18 ounces) and offers capsule-specific brewing via smart barcode reading and recognition. You'll need to buy the compatible pods from the Nespresso Vertuo range but with this limited edition iced coffee bundle, you'll have plenty of cold options to last you through the springtime.