The spring sales are offering some great price cuts on TVs, specifically on 4K, OLED and Roku devices. If you're looking for one of the best TV deals at the moment, Walmart makes it easy for you to shop by brand, size and streaming capabilities to help you find the best TV for your needs and lifestyle.
Roku streaming services are extremely popular and if you're really into your streaming apps and channels, it's a good idea to invest in a TV which has Roku technology built in. The best TV Roku deal that we've found at Walmart offers a 55-inch screen size, 4K resolution and streaming for just over $300.
View the TCL 55" 4K Roku TV deal
Shop all Roku TV deals at Walmart
Originally priced at $599.99, the TCL 55" 4K Roku TV has had $280.99 (47%) knocked off the price, taking it down to just $319.
TCL TVs offer great picture quality and features for low prices. While they might not be as impressive or high tech as other TV companies like Samsung or Sony, TCL is still a good budget TV brand and comes with Roku streaming.
Streaming has completely taken over and changed the way we watch TV so to make streaming easier and more seamless, choose a TV with streaming built-in like the TCL 55" 4K Roku TV. Powered by Roku, this TV gives you access to thousands of streaming channels all via the home screen or the free Roku app.
The TCL 55" 4K Roku TV has an impressive 55-inch display which delivers a wide and cinematic view that looks great in most rooms. Around $300 for a 55-inch TV is an amazing price so this deal is definitely something to take advantage of from Walmart.
To view the TCL 55" 4K Roku TV deal, click the link above or for more Roku offers, check out the best Roku deals and best streaming service deals.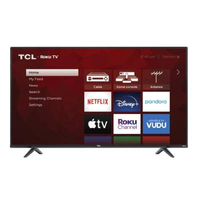 TCL 55" Class 4-Series 4K UHD HDR Roku Smart TV: was $599.99, now $319 at Walmart
The TCL 55" 4K Roku TV delivers 4K resolution and HD picture quality with clear and enhanced details and clarity. The 55-inch screen fills up the room nicely and offers multiple viewing angles, wherever you display it. With Roku built-in, you get access to thousands of streaming channels, including Netflix, Amazon Prime, Disney+, HBO and Hulu, via the simple and personalised home screen.