When it comes to cycling, having the best cycling helmet is not optional, it's a must. Safety comes first, whatever the season and regardless of the amount of traffic on the roads. Donning your ultra-flattering high-viz and setting your lights to max output before you head off are the obvious safety steps to avoid an accident, but, god forbid, if you actually do have a shunt, wearing something from this guide to the best bike helmets could be a literal lifesaver.
In the UK and most of the USA, wearing a cycle helmet's not required by law, but in most of Australia, it is mandatory. But regardless of the law, the risk of injury can be reduced by up to 70% by putting one on. These days there are plenty of helmets in attractive designs from prestige brands, so you needn't feel self-conscious about protecting yourself.
Cycling helmets are recommended for all types of cyclists, especially riders of the best road bikes, as they tend to go fast, and also e-bike cyclists tend to navigate in heavy urban traffic. To improve visibility and safety, make sure you use the best bike front lights and bike rear lights. You can't be safe enough on the roads.
Best cycling helmets to buy right now
Why you can trust T3 Our expert reviewers spend hours testing and comparing products and services so you can choose the best for you. Find out more about how we test.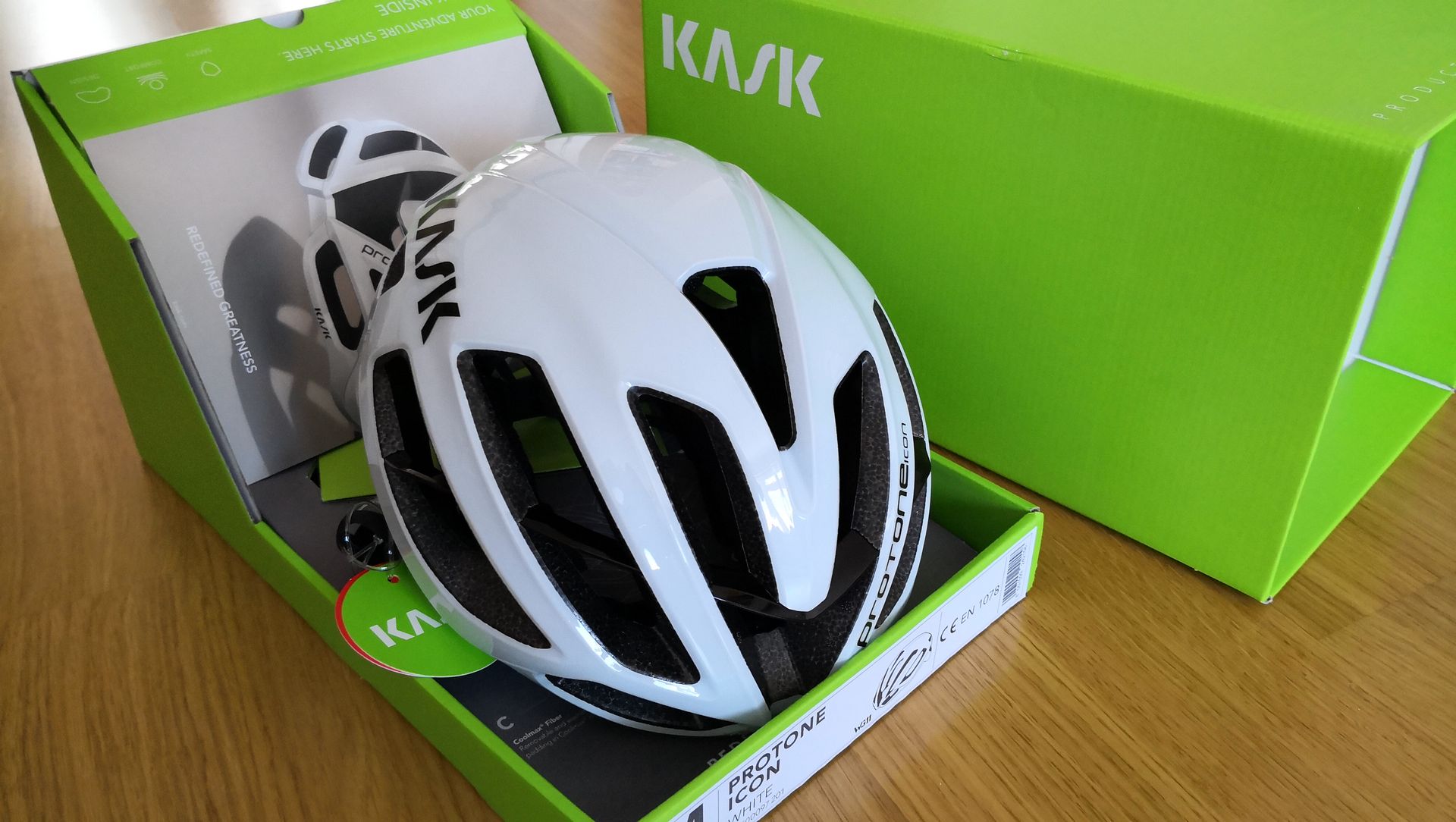 Delicious re-styling and a general overhaul to the design and componentry have given the Kask Protone cycle helmet a whole new lease of life. It's already popular with the pro cycling community and has proved its worth at events around the globe.
If you have the older, outgoing model, it's well worth giving the revised edition a once over. This is supremely comfortable to wear, is light enough not to be a hindrance, and, if you get up some decent speed, the improved aerodynamic qualities are easy to witness.
The Octafit+ retention system inside the lid is now better than ever. It utilises a revised cradle, boasts improved rubber inserts and has a refreshed stabiliser that sits much better over the neck. The upgraded internal frame structure feels much better in terms of ventilation too.
Despite the fact that there is an absence of MIPS (or Multi-Directional Impact Protection), Kask says that its own testing method – called Rotational Impact WG11 Test – is more aligned with real-world use. It's basically one of the best you can buy.
Read our full Kask Protone Icon review.
If you need a lightweight, superbly-ventilated jack of all trades cycling helmet, the S/F Prevail Helmet is your best option. It's jam-packed with top-tier technology, which helps keep the weight to the minimum without cutting corners in the safety department.
We tested it in perfect weather conditions (blazing sun, hours on the saddle), and we were delighted with how it performed. Airflow was always optimal under the lid, and the fit was spot on too. Our only grief isn't a real issue, either; we wish the MiPS Air Node system felt a bit more secure – that's all. Other than that, the S/F Prevail is a premium helmet we can wholeheartedly recommend for bikepacking and summer rides in general.
Read our full Specialized/Fjallraven Prevail Helmet review.
There's lots of marketing fluff around expensive cycle helmets online, particularly this one, thanks to Red Bull's involvement, that might make you think they are all style and no substance. After all, impact protection, ventilation and a lightweight design are expected from any decent cycle helmet these days!
However, at least some of the claims are substantiated in this case. Sure, we love how Lazer has designed this lid, and it's finished beautifully with the Red Bull sponsorship styling. But we also like the Scrollysys adjustment system that can be tweaked via a finger pad on the back of the helmet and the KinetiCore spongy-style pads inside the lining for added bonce comfort.
The Lazer Vento KinetiCore Helmet is a fast helmet with performance much like other models in the range. It's on par price-wise with other premium helmets, too, though the limited edition edge of the Wout van Aert Red Bull branding will probably make it more sought after.
Read our full Lazer Vento KinetiCore Helmet review.
Available in a range of colours, the POC Myelin is a great commuter-style cycle helmet that can be taken apart and recycled when it's reached end-of-life status. It's nicely made, looks the part and doesn't feel too bulky.
POC has produced the Myelin using 50% recycled materials, so it's off to a good start. You wouldn't know, though, as this cycling helmet's overall look and feel are awe-inspiring.
The fabric weave shell helps when it comes time to deconstruct the Myelin in readiness for a trip to the recyclers. All you'll need is a hand tool like clippers or pliers to cut the fasteners, and the helmet should then fall into its various parts.
The careful use of materials has resulted in a cycle helmet that feels right regarding weight and looks pretty cool too. It's perfect for everyday cycling or commuting duties.
Read our full POC Myelin cycle helmet review.
When you get the KASK Utopia out of the box, it feels unbelievably airy. Close to the head, you'll find 5 mm of fast-wicking Resistex material and moisture shunning is further enhanced by the space-grade ventilation system. The air vents have another purpose, too: the Kask Utopia is aerodynamic to the highest levels.
We found that the Kask Utopia really shines at high speeds: wind is channelled away from the riders' ears so you won't get deafened by the windrush and thanks to the aero control system, your head is kept cool even when doing top speed on your triathlon bike.
And, of course, the Kask Utopia will keep your skull intact on the roads, too. Kask's MIT technology uses a polycarbonate layer that covers the shell on the top, on the base ring and on the back. The "in moulding" technology joins the inner polystyrene cap to the outer polycarbonate shell for better shock absorption.
Sure, Oakley might be more well-known for its sunglasses, but the California-based company can manufacture other types of performance cycling gear, such as cycling helmets.
The Oakley ARO5 is a good example of a very decent MiPS-enabled road cycling helmet that's highly functional yet absolutely affordable. The ARO5 might be affordable but is not 'cheap' by any means.
This comfortable lid comes equipped with a 360-degree BOA fastening system and MiPS Brain Protection System. The former will help find the best fit by tightening the whole frame as opposed to just the part at the back of your head.
And since Oakley is a sunglasses manufacturer, the ARO5 comes equipped with an 'eyewear dock', meaning you can store the glasses on the helmet when not in use. Just stick them in the helmet and forget it's there as you pedal. The ARO5 also comes with a travel bag and an Oakley decal too. You'll definitely get your money's worth here.
The look of the Macon 2.0 has much less race-day DNA than some of the more aero cycling helmets on this guide, which is not all that surprising considering Bern was born as a brand for skaters. A relatively low profile – okay, it is a little bulbous, as Bern's helms usually are – and lighter weight means it's still sufficiently aerodynamic to not hold you back.
There's also a MIPS version of the Bern Macon 2.0 available. With more resistance to rotational force, it'll be of interest to off-roaders and anyone who prefers the maximum available insurance against cranial trauma. Does cost a bit more, though, although still way cheaper than most of the top-shelf bike helmets on this list.
Not-so-cheap extras aside, the Bern Macon 2.0 is an awesome urban cycling/skating/e-scooting helmet that's priced reasonably and looks the part too. It's comfortable to wear, easy to adjust and won't make you feel like a fool when wearing it. What more can you ask for?
The Smith Trace helmet features a unique system called Koroyd, a superlight ventilation-slash-protection system that surrounds your cranium. It looks like a bunch of straws cut into shorter pieces and arranged in a honeycomb shape under the helmet's outer shell.
Thanks to these tiny plastic tubes, the Smith Trace provides exceptional ventilation not just for your head but also for your cycling sunglasses that can be stored in various ways on top of the helmet. Glasses fogging up doing longer distances won't be an issue with the Trace.
The Smith Trace is easily adjustable using the Vaporfit turn-dial at the back of the helmet. Thanks to the XT2 antibacterial performance lining, it's also comfortable against the skin. Comfort levels are further enhanced by the 18 vents around the outer shell that remove excess heat and keep your head cool.
On the downside, the Smith Trace cycling helmet looks a bit bulky viewed from the front and does cost quite. It's worth the price for people who are after a no-compromise performance cycling helmet, though.
POC is like the Volvo of the helmet world: Swedish, renowned and revered for its impeccable safety standards and investment in new technology, but once avoided due to the fact its products were a little, shall we say, 'unflattering'.
But as with Volvo, the times have a-changed. POC now offers numerous seriously safe helmets that also look great, and the award-winning Octal is a distillation of this effort.
Octal weighs less than 200g in medium size yet goes above and beyond most other road bike competition in so much as it offers additional coverage and protection for the temples and back of the head, while the EPS liner is strategically thicker in the most exposed areas.
On top of this, there's all the ventilation a sweaty head could lust after, and the aerodynamic shape makes it as good on the racy sportive as it is on the morning commute.
If you want absolute cutting-edge safety – sorry for the unfortunate choice of words there – POC is also now a version of the Octal with its multiple-impact protection system (MIPS), which is built to withstand potentially catastrophic twisting forces on your dome in the event of a prang.
Although not an out-and-out time trial helmet, this slippery devil from Giro is designed to slice through the air with minimal fuss, without the wearer looking like they've developed some sort of alien cranium.
Its compact proportions make it a good distance helmet, while the TransformAir design actively streamlines airflow to reduce drag and ease the rider along the more punishing routes.
A built-in Magnetic Vivid shield by Zeiss offers additional aero performance and some eye protection, while a variety of colour schemes means there's a whacky design for every rider. It does look absolutely bad-ass, but maybe not one to don when straddling a Boris Bike.
How to buy the best cycling helmet for you
First, the basics: most road helmets are designed to be used once. By 'used' we mean, to be involved in one collision. You don't have to buy a new helmet every time you ride; that would be silly. But if it protects you from a crash, it has in effect given its life to save yours, and must be thrown away.
More advanced/modern helmets use a multi-directional impact system (or MIPS). This offers even more protection than a standard helmet, by resisting the twisting effect of an impact from certain angles. These tend to be more expensive, but then, not as expensive as buying a new head.
If you're a frequent road cyclist, you'll want a helmet that's aerodynamic for reasons of both speed and ventilation. Most helmets aren't waterproof, but they do offer at least some protection from rain, cold and wind.
Road helmets have also become increasingly "smarter" with features such as Bluetooth connectivity and LED lights for safe cycling at night but you can always just attach a light to a non-smart helmet. Some helmets also include a pull-down, usually removable visor to protect your eyes, and/or to make you look awesome.
Most bike helmets are suitable for men and women, but you should either try a helmet on for size in a shop, or be ready to return and replace a wrongly sized helmet in timely fashion, if you order online. That's because a lot of helmet brands' stated head diameter for each size of helmet seems to have been reached through use of a random number generator. If you like to wear a cap under your helmet, this is particularly necessary.
After that, it's simply down to style. Most helmets come in a range of bright colours which help with visibility as well as looking good. We've compiled a list of the top 9 helmets to suit a range of cyclists needs, including a variety of colours and patterns to cater to personal style.
FAQ
What's the safest cycling helmet?
For urban cyclists, the Hövding 3 cycling airbag (retailer link) might be the safest option. This cycling helmet-cum-airbag deploys within 0.1 seconds in the event of an accident, and when it does so, it'll cover most of your head, all the way down to the neck, giving you more protection than just standard cycling helmets. Hövding claims that its proprietary algorithm reads movements 200 times per second to determine what position the cyclist is in at any given point. You will need to charge the unit relatively often, though.
Are cheap cycle helmets safe?
The short answer to this question is no. Cheap cycling helmets use inferior materials which will result in the helmet breaking clean off your head when it would supposed to give the most protection. Not to mention, micro-cracks on the plastic shell might render cheap cycling helmets unsafe straight out of the box. You don't need to buy the most expensive cycling helmet but spending a little bit more than just the bare minimum is most certainly recommended.
What is the most comfortable bike helmet?
This very much depends on how you define 'comfortable' but if it's comfort you're after, stop salivating over the KASK Mistral and look for something more... urban, so to say. Pick a helmet that has ample amount of padding but also well-ventilated so while it will protect your head without compressing it, it will also keep it cool.
The Lazer Blade series can be considered a fairly comfortable cycling helmet, so can the POC Octal. Should you need a cycling helmet that won't mess up your hair, have a look at the Hövding 3 Cycling Airbag. That pretty toasty around the neck, though.