iPad mini: Launch live blog
We're just hours away from Apple's latest launch event which will almost certainly see the company debut a smaller version of its all-conquering iPad tablet. Join us here for full coverage. Refresh this page for ongoing updates throughout the event.
Apple will hold a press conference today, during which the company is widely expected to announced the long-rumoured iPad mini device.
Invites to the 'Special Event' landed in the T3 inbox earlier this week with Apple promising, "We've got a little something to show you" and, while the invite stops short of confirming the device, the clue appears to be in the title.
As always, we'll be live-blogging events from at the California Theater in San Jose as they happen, with kick-off expected at from 6pm UK time.
17:00: Just an hour away from the launch in San Francisco. Keep it locked here for full news as it breaks.
17:08: What's the feature you'd like most to see in the iPad mini? Quad-core speed? A Retina display? 4G LTE connectivity? A super-thin body? Let us know @t3dotcom or on our Facebook page.
17:15: It seems certain that Apple will price the iPad mini to be competitive with the Google Nexus 7 and the Amazon Kindle Fire HD, but just how far will Apple go? £200? £250? We're going to take a wild stab at £230. £100 cheaper than the current iPad 2.
17:16: Oh, and as is customary, before these events, the Apple Store is down. Check it out.
17:31: There's likely to be a lot more on show today than the iPad mini (imagine the outrage if we don't get that!). Apple is rumoured to have new iMacs, Mac minis, perhaps a 13-inch MacBook Pro with Retina display and a new version of iTunes.
17:35: Just over 25 minutes to go and T3 Magazine Editor Luke Peters has entered the California Theater in San Jose. Here's the proof.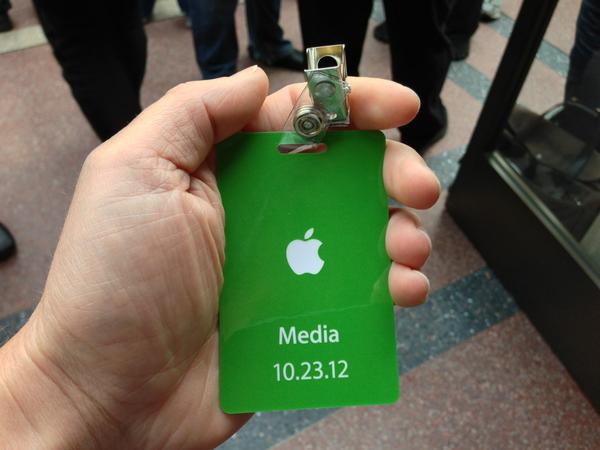 17:39: Luke will be among the first reporters in the world to get his hands on the products announced today, so make sure you stick with T3 after the event is over for T3's first impressions.
17:41: It looks like we've got a pretty serious leak on our hands courtesy of the guys at etradesupply (via BGR), who've somehow snagged what looks to be a completed iPad mini model. Is this the real deal? Check out the video below.
17:46: The video shows a smaller, slimmer version of the 9.7-inch iPad, complete with a rear facing camera and, as predicted, the new Lightning connector
17:48: The video shows a device with no front-facing camera with a measurement of the LCD screen showing it at 8-inches and 7mm thick.
17:51: We're less than ten minutes away from the start of the event now. Is what we've just seen the iPad mini or the most elaborate tech hoax in a long time. Not long until we find out for sure.
17:53: Luke has taken his seat at the California Theater. Looks lovely in there doesn't it? I wonder if Apple will put on a little musical theatre revue afterwards? Snow White and the Seven Dwarf iPads? Sorry...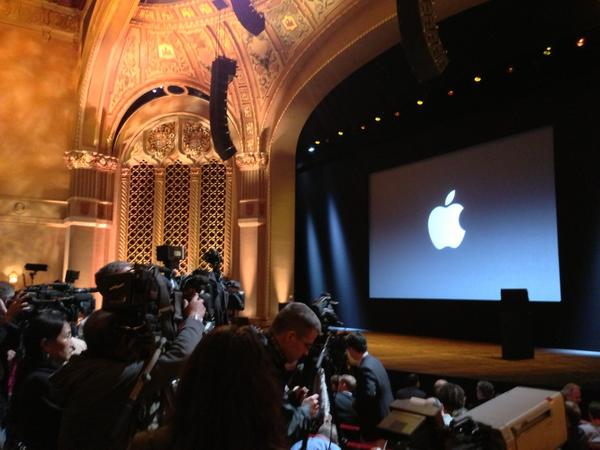 17:57: "Ladies and gentlemen, our presentation will begin shortly..." We're about ready to go here. Let's do this! #GroupChestBump.
17:59: There's some Apple-commercial-esque jangly-string hipster music playing over the loud speakers. Really gets us in the mood.
18:01: Huge applause for the Apple CEO who must now be getting used to fronting these events. Tim looks radiant today. He's wearing a blue polo/fleece.
18:02: He's just wished everyone good morning several times. "Going to create a few more memories here today. We've got some really exciting things to show you."
18:03: "Most phones sold in an opening weekend, the excitement was incredible," Cook waxes lyrical about the success of the iPhone 5. No mention of Maps yet.
18:04: Here's a video about the excitement at Apple Stores around the world. Oh look, there's Regent Street! Hi, mom!
18:05: Here's Tim live on stage! He looks really small.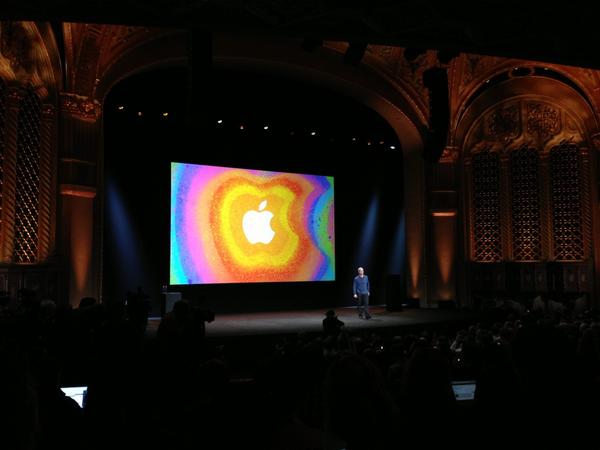 18:05: People around the world were totally excited about the iPhone 5. Yes, we get it.
18:06: Here's an update on the "incredible" new iPod nano and iPod touch. "Off to a fantastic start. The reception has been fantastic." Tim is being really forceful and excitable with his delivery today. Announces 3m new iPods sold already.
18:07: 200m devices running iOS 6. That's a lot of people now asking folks on the street for directions. "Fastest upgrade rate in history... that we're aware of."
18:08: Tim is focusing on how OS X and iOS are working together to bring us features like Documents in the Cloud (125m saved so far), iMessage "the best way to send anyone a message. You can see all of your messages on all of your devices. Customers have sent 300 billion iMessages at 28,000 per second."
18:09: "Shared PhotoStream is the best way to share just the photos you want with just the people you want." 70m photos already shared in the last month. "Great ways for iOS devices and Macs to work together seamlessly."
18:10: A brief word about the App Store. "We've reached another milestone. Customers have now downloaded 35 billion apps from the App Store. This is jawdropping. That App Store continues to exceed our expectations. We've paid out $6.5 billion dollars to developers."
18:12: A shout out to iBooks. No mention of the price-fixing lawsuit. Over a million and a half books on the bookstore. 400m downloads so far. "Gorgeous reading options like this 'Sepia Thing'" Nicely put, Tim.
18:14: New iBooks with auto-scrolling. Better integrated with iCloud so all purchased books show up on your shelf. Tap on your favourite quote and share it on Facebook or Twitter. "Really cool" says TC in Steve Jobs-esque tones. 40 languages now too.
18:15: New iBooks available to download for the App Store now.
18:15: Onto the Mac. Mac outgrew PC market by over 7 times. Mac is the number one desktop and notebook in the US. That announcement brought a big round of applause. Somewhere Steve Ballmer is getting very red faced
18:17: We're not standing still with the Mac, we've got some great stuff to show you.
18:18: Here's Phil Schiller to do the honours. "Very exciting day for Mac"
18:18: "Best notebook we've ever created," regarding the MacBook Pro with Retina Display. Here comes the 13-inch version of that.
18:19: "We've taken our best product and we're going to introduce something so much better. Really excited to show you the new 13-inch MBP."
18:19: 20 per cent thinner (0.75-inches), weighs 3.57lbs (a pound lighter). HDMI, USB 3.0, SD card, Two thunderbolts, dual microphones Magsafe 2, no optical drive.
18:19: 4,060,000 pixels on the new Retina Display MBP. 2nd highest res display after the 15-inch model. 75 per cent less reflection than previous model.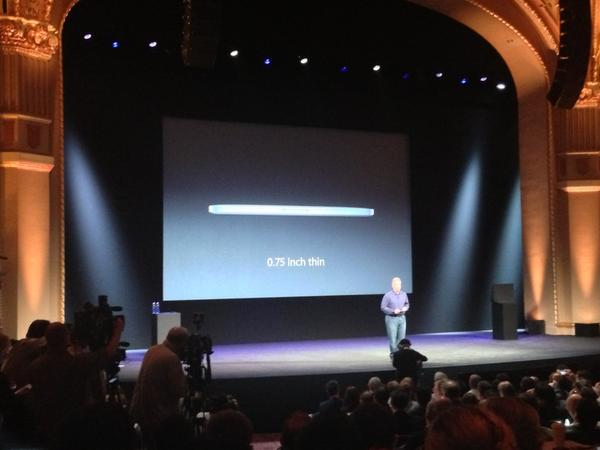 18:20: Phil is explaining the benefits of working with applications on the new 13-inch Retina Display MacBook Pro. iMovie, keynote, web browsing and mail in particular. "Lots of great software for the Retina display"
18:21: "Most exciting thing is the inside. Everything about the new MacBook pro has been redesigned."
18:22: Naturally, they'll run i5 or i7 Ivy Bridge processors with up to 768GB flash storage.
18:23: As expected, it starts at $1,699 with 2.5GHz dual-core i5 processor, 128GB storage, 8GB RAM. Ships today. We'll have the UK pricing as soon as its announced.
18:25: Video on screen says its "for the Pro in all of us."
18:26: "Next, the Mac mini. You knew there'd be something called mini in this presentation, didn't you" Phil says, drawing laughter from the crowd.
18:26: Update is inside with i5 or 17, upto 1TB memory, upto 16GB RAM and Intel 4000 graphics. All start shipping today.
18:27: Phil seems keen to make reference to the environmentally-friendly nature of the products, following a spat with the regulators earlier this year.
18:29: Here comes the new iMac "The 1998 bondai blue iMac started it all for us. We've had 7 generations of iMac, each one better than the last. You're the first to see the next generation iMac. And here it is.
18:30: HOOOOLY CRAP, that's pretty.
18:30: "The most beautiful Mac we've ever made. Look at that edge? Just remarkable how thin it is. There's an entire computer in here." Phil has a new iMac on stage and its bloody gorgeous.
18:11: The edge is 5mm thin and that's 80 per cent thinner than the previous generation.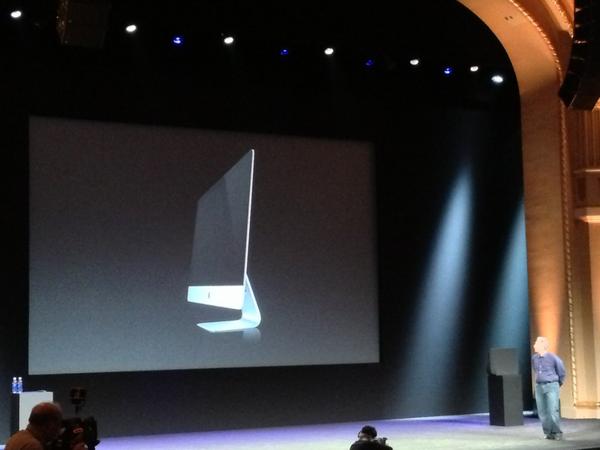 18:32: Explaining how its so "amazingly thin." It comes in 27-inch and 21.5-inch. Full lamination design "improves optical quality." Anti-reflective coating added to the display called "plasma deposition." gets it down to a 'nanometer' thickness for 75 per cent less reflection. Each display is individually calibrated on the production line.
18:34: Facetime HD, dual microphones and a better sound system. It sheds 8 pounds in weight.
18:35: Headline internal spec is up to 32GB RAM. Twice as much as before.
18:35: New storage solution. "Apple fusion drive" is 128GB flash storage and 1TB or 3TB HDD. Faster reads and writes, fused into one volume, built in with OS X. This is on the new Mac mini too.
18:36: Automatically transfers regularly used applications to Flash and keeps less used programs on the HDD. Still performs as fast as Flash overall.
18:38: Starting price is $1299 for 21.5-inch, 1TB HD, 8GB RAM, 2.7-inch quad-core i5. Shipping in November.
18:39: 27-inch will start at $1,799. Will ship in December.
18:40: Note, there's no optical drive, but you can buy a USB superdrive.
18:41: Tim Cook back on stage to talk about iPads. Apple has now sold 100 million iPads in 2.5 years "unprecedented for new product in new category. Most iPads in Q2 than any PC manufacturer for their whole PC line-up."
18:41: "iPad accounts for 91 per cent of web traffic on tablets. You may ask why iPad is so phenomenally successful? Turns out there's a simple reason for this, they love their iPads!" *Laughs*
18:42: Tim proceeds to list off all of those reasons why people love their iPads. Screen, touch-interface, optimised apps, FaceTime camera, HD video.
18:43: Bigging up the iPads success in the education sector and the introduction of iBooks textbooks. Now available for 80 per cent of the US high school core curriculum. In 25,000 schools in the US. New version of iBooks author giving publishers access to their own fonts and multi-touch widgets. Books now easier to update.
18:44: T3's Luke Peters via @t3dotcom on Twitter: "TC focusing on iPads for education. Priming for a cheaper, smaller device?"
18:46: A bit of boring business community talk here. So here's another look at that lovely new iMac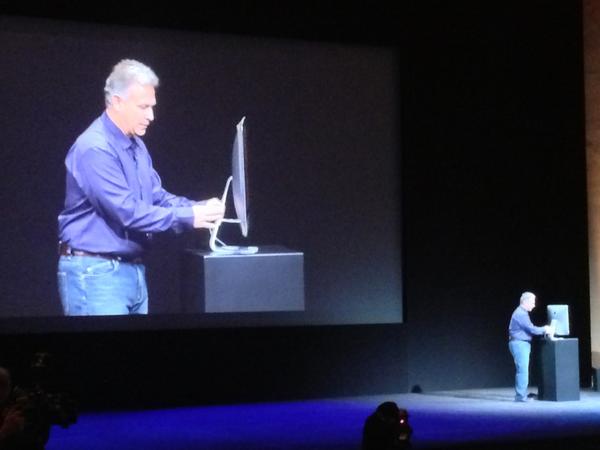 18:47: "New iPad is best selling in the world, but we're not taking our foot off the gas." Here's Phil.
18:48: Woah! 4th generation iPad. Here's the refresh. A6X chip for faster performance, doubles the performance for CPU tasks, doubles graphics performance, "can't even see competition in the rear view mirror they're so far behind us"
18:49: FaceTime HD camera and LTE on the EE network in the UK. 2x faster Wi-Fi. Lightning connector now on board. Lightning to SD card and Lightning to HDMI cables. Comes in black and white and the same price.
18:50: "Twice the performance, new features at the same price. Third generation was the best in the world, the forth generation just extends that lead," says Schiller.
18:51: "How can we extend this so users can use it in ways they never have before?"
18:51: "This is the iPad Mini. It isn't just a shrunken down iPad, it's a completely new design. There's nothing as amazing as this. Beautiful from every angle... and you can hold it in one hand." Huge cheers from the assembled crowd as Phil holds one up to the audience.
18:53: "Thin as a pencil and light as a pad of paper." After huge internal deliberation, Phil says, Apple has picked a screen size of 7.9-inches. Same amount of pixels as the iPad 2. 1024 x 768. All software created for iPad works on iPad mini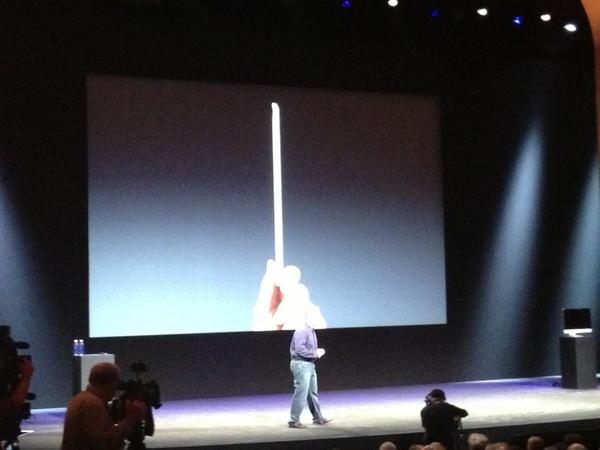 18:57: It's 53 per cent lighter than the full-size model at just 0.68lbs, 7.2mm thin
18:56: "Others have tried to make tablets smaller than the iPad and failed miserably" Ripping on the "most favourably reviewed" Android tablet, the Nexus 7, speaking about the size of the bezel and 21-inch screen area compared to the 29.5-inch screen are. "49 per cent larger for surfing the web, yet it's thinner and lighter" Gigantic difference, says Phil.
18:59: Apps: "Only a scaled up phone experience," on Android tablets. "great experience on iPad mini"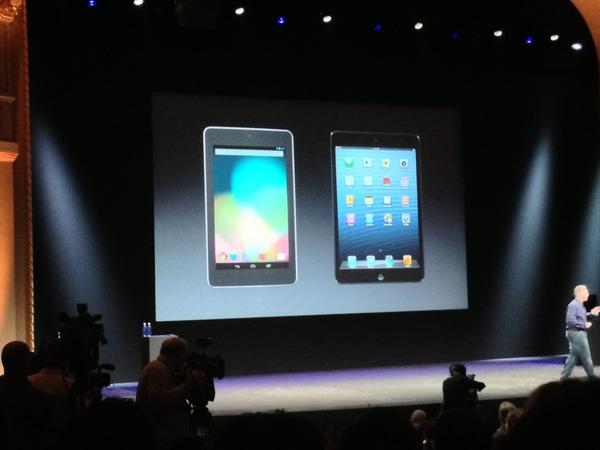 19:00: it's got an A5 chip, FaceTime HD camera, 5mp iSight camera with 1080p video, has same LTE capabilities as new 4th gen, fastest Wi-Fi, Lightning connector. 10 hours of battery life too. All the tech is better than the iPad 2.
19:01: "It's every inch an iPad" says Schiller before introducing a video, featuring Sir Jony Ivy and Apple's big design and engineering hitters.
19:02: "Small enough to fit in one hand, large enough to give you that full iPad experience," says the video.
19:03: "If we took the iPad and just reduced it, all you'd be aware of is what was missing," says Sir Jony. "It's a concentration, not a reduction."
19:04: New smart covers too. No more aluminum. Simple coloured material.
19:05: Luke Peters on Twitter: "The iPad Mini design looks 'a little' like the old 3G in terms of curved edges."
19:05: "The result is an extraordinary iPad that will be used in so many different places in so many different ways," says Ive to close out the video.
19:07: 16GB starts at $329. Lowest price yet for an iPad. It ranges up to $659 for 64GB Wi-Fi + Cellular. We'll have the UK prices as soon as they're announced.
19:09: Pre-orders start on October 26. Wi-Fi will ship first on November 2. Two weeks later for Wi-Fi + Cellular models.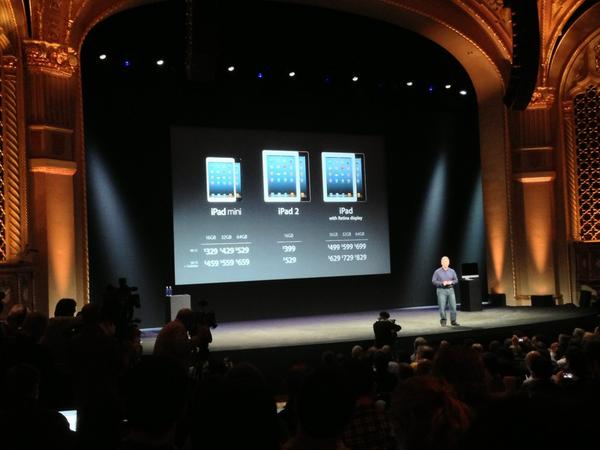 19:10: Cute TV ad screens reminds us of the piano scene in the Tom Hanks classic 'Big' He made a wish on a machine and it turned him into a grown up. "The space goes down, down baby, down down the rollercoaster..."
19:11: Tim's back. "It's very cool. This year we promised innovation that only Apple can deliver. We think we've kept our promise and we hope you agree." He then goes on to list Apple's launches throughout 2012. There's quite a lot, to be fair.
19:12: "We hope you love these products as much as we've loved creating them. The team dedicates a huge part of their lives to making the best products on earth." No chance of a shout-out for the Foxconn employees, Tim?
19:12: That's the end of the keynote. Tim waves goodbye and tells everyone to go and get their hands on with the new tablet, which is exactly what our esteemed editor Luke Peters will be doing right now.
So, the big news from today: Apple announces new 13-inch MacBook pro with Retina Display.
Apple announces new 2012 iMacs, 21.5-inch and 27-inch and they're 80 per cent thinner than previous generation, alongside new Mac minis.
And then of course we had the new 4th generation iPad, twice as powerful with the Lightning connected and 4G LTE for the UK
19:22: Finally, the main event of the evening, was the iPad mini. 7.9-inch screen, A5 processor, LTE connectivity, FaceTime HD, 5mp iSight camera with 1080p video and a starting price of $329.
19:24: Get yourself over to the T3.com homepage for full product details from all of today's launches, as well as the latest reaction and the first hands-ons with the new products.
19:25: Be sure to tweet us your views on the event and the iPad mini @t3dotcom