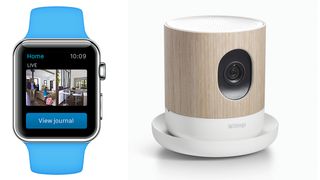 Intro/Withings Home
Thanks to the likes of the Withings Home pictured here, Apple HomeKit and other tech with the word "Home" in it, smart home tech is sloooowly taking off in Apple-using households. Over in Android land there's SmartThings and another set of standards and gadgets, many of which overlap with their iOS brethren.
Now sure, your smartphone can control all this stuff. Whether that's commanding a coffee from your smart espresso maker downstairs before you roll out of bed, or turning up the central heating as you head home from work, it can all be done from your smart device.
• Want more? Our favourite non-Watch smart home tech is here…
However, the connected life gets a whole lot easier with the launch of the Apple Watch. No more fishing out your phone just to turn the lights on, and Siri integration for many of these products (and all HomeKit tech) means you can finally make your kettle boil by talking to it, without being burned as a witch.
To celebrate this momentous development, we've rounded up ten of the best smart home automation apps for the Apple Watch, starting with Withings' Home cam. All prices are for hardware and the apps are free, unless noted.
Withings Home HD • £130
French firm, Withings, is a pioneer in the internet of things and its smart home products have all been very Apple-friendly, so it's no surprise that the Home HD camera is the first smart camera to have a companion WatchOS app AND an Apple TV app. It's not compatible with HomeKit, however as that doesn't yet support cameras.
Home HD is an elegant high-def video camera with two-way audio, making it ideal for use as a baby monitor. You can even trigger it remotely to play a lullaby. But its environmental sensors also detect motion, noise and air quality so the companion iOS Home Monitor app gives you quite a lot of useful data, including a timeline of events.
The WatchOS app extends much of this info to your Watch in a more manageable feed, so for instance, if you allow Glances in the Watch settings, you will see the latest event, which could be a change in air quality, or movement and a still shot of your chosen room. But the Watch app also allows you to play video clips and speak through the inbuilt speaker, so you don't need to reach for your phone every time you want to check on junior, or ask the man in the stripey jumper and the bag marked sway to kindly put down your silverware and depart.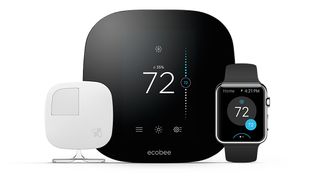 Ecobee3 • $249 plus install
As the first smart thermostat maker to hand us smartphone control of our central heating, it's no surprise that Ecobee is also the first with an Apple Watch app. That means you can check that your pad is warming up nicely as you head home, with a glance at your wrist, or dial up the heat with a swipe.
There are twin advantages to the Ecobee3, the companies 3rd-gen thermostat, over the other big-name thermostats. Those are a large colour touchscreen interface – a far cry from the built-in controls on your boiler – and Ecobee's remote sensors. These wireless devices (up to 32 of them) can be placed in different rooms to feed back temperature, while motion sensors in each unit tell the app if anyone is at home. If not, the boiler shuts off.
The WatchOS app feeds this info in bite-size screen shots to your watch screen and presents a mini-me version of the smartphone app interface. It's enough to turn the system on and off and set the temperature in each room.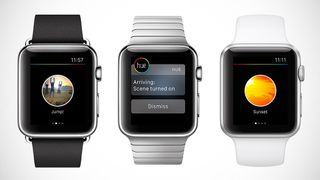 Philips Hue • £150 for three bulbs and bridge
Hue is the smartest of smart lighting systems, offering a host of LED lamps and light strips that sync with your smartphone to create colours and preset scenes or alerts.
With HomeKit support now baked in, there's support for Siri with voice control and an Apple Watch app, so you can turn your lights on and off, dim them, or have them change colour right from your wrist.
While you'll need a phone or tablet to setup the more complicated lighting scenarios, like arranging for certain lights to come on when you return home, via the increasingly popular art of geofencing, you can also activate every light in your house from your Apple Watch. Switching lots of lights on something as small as a watch face can be fiddly, so what you see on the WatchOS app is simply a big round button that switches all your lights to any of your favourite scenes. Just swipe sideways for buttons that activate different scenes.
Phillips Hue Bridge 2.0 – the piece of hardware that sits between your router and your Hue light bulbs now includes HomeKit, so if you have this second generation hub, you can yell "Hey Siri, turn the lights red", at your phone and Siri will oblige. Soon that will apply to your Watch too, but for now it's a case of touching and swiping.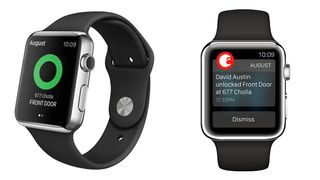 August Smart Lock • From $199
There's no need for a key when entering an August smart home. Instead, this wireless lock responds to a signal from your smartphone, or Apple Watch, unlocking the door when your hand is on the handle and then automatically locking it again behind you. With the addition of HomeKit compatibility in this second-gen model, you can even ask Siri to open the door for you.
The rather handsome door gadget, designed by Yves Behar, attaches to your existing lock (it's compatible with around 80% of cylinder locks, apparently) on the inside, so your door looks no different from the street. That also means you can still use your existing key, should both your phone and Apple Watch let you down on the same day.
August uses Bluetooth Low Energy with AA batteries in the lock itself as backup in case your Wi-Fi network goes down, so the technology shouldn't ever leave you marooned on the doorstep. In fact, through the magic of geofencing, the August lock can tell when you, or rather your iPhone, returns to within a 100-meter radius and unlock the door expectantly, though we'd advise turning that off, to be honest.
The real advantage here is that you can use the recently updated August app to grant access to family members, or email temporary passes to friends and tradespeople - for anyone running an Airbnb business, that could be invaluable.
Pictured here alongside the main lock, there's also an August keypad lock ($79), if you prefer to pretend your home is a top-security research installation, and finally, the recently released August Doorbell Cam ($199) beams pictures of your visitors to your Watch and phone, so you need never be at home again.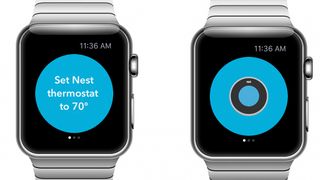 Do Button by IFTTT
Anyone familiar with If This Then That and its cunning 'recipes', which make one online event trigger another useful one, will understand the potential of an Apple Watch app that can act as a personalised button for any smart home command.
Maybe what you want on your Watch is one big button that switches Nest to your favourite temperature? Tap your Watch and Nest will dial the temperature to 70-degrees Fahrenheit right away.
Because the WatchOS app appears on your wrist simply as a button that you can scroll sideways to access the next button, it's beautifully simple to use and it's an app that really comes into its own when you find recipes that are particularly germane to you personally.
Another example is a button that you press when you finish work, which automatically emails your partner to say you're on your way, with an attachment showing your location. Actually, that sounds like a nightmare, scratch that.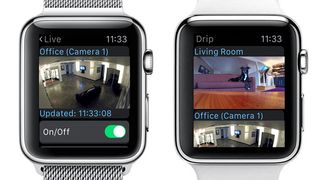 Drip for Dropcam • From £159 • App £2.29
Keeping tabs on your home while you're away has never been easier thanks to the new breed of smart cameras that sit on your home network beaming live feeds to your phone. Few are more popular than Nest's Dropcam and with Drip for Dropcam installed, you can check your cameras, day or night, with nary a glance at your Apple Watch.
As the Apple Watch couldn't stream video at launch, Nest didn't bother with a WatchOS app for Dropcam, but the third-party Drip for Dropcam gets around the lack of video streaming by drip-feeding live images to your Watch from any of your connected Dropcams every three seconds.
You also switch cameras on or off from your wrist and assign one camera to Glances, so checking in on your home is as simple as swiping up on your Watch.
We found Drip for Dropcam a little glitchy to set up and access, but until Nest gets around to releasing a Watch app, it'll do.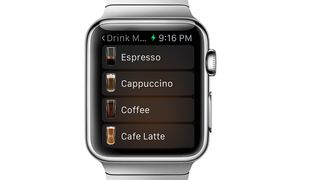 TopBrewer • £POA (ie: pricey)
The most minimal, not to mention expensive, coffee machine on the planet now has its own WatchOS app, so you can select your brew and commence the automatic bean-to-cup process with just a few taps and swipes of your Apple timepiece. The convenience of a coffee dispenser that cuts the fuss and clutter is ideal for the workplace, but it's also finding its way into the smart home.
All you see of this fully automated coffee table is the elegant neck and spout because the 32kg machine is installed beneath the counter, where it grinds the beans, heats the water and adds the milk on demand. Connecting via both Wi-Fi and Bluetooth, it remains in wireless contact with the TopBrewer app, so you can trigger a brew from your smartphone or Apple Watch wherever you may be.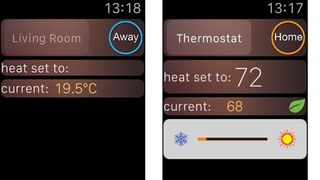 QuickControl for Nest • £179 • App £1.49
As with the Dropcam, until Nest comes up with its own Apple Watch controller for its smart thermostat, other app developers are happy to oblige. QuickControl does so with a WatchOS app that shows you the current temperature of your house at a Glance and offers instant control with a 3D touch to access the temperature and all without needing to launch the app on your phone.
Nest's iOS app presents a neat interface for your thermostat and any other Nest devices you might own on your smartphone. But sometimes, when you're cycling home for instance, it's easier to leave your phone in your bag and just check your Apple Watch. That's where QuickControl comes in because you can check the thermostat temperature with one upward swipe thanks to Apple's Glances feature. To actually dial up the heat, press a little harder and a menu including a temperature dial pops up.
You can also use the Watch app to set the thermostat to 'Away' when you leave the building, or 'Home' as you approach. These one-touch controls will set it to your preferred preset levels.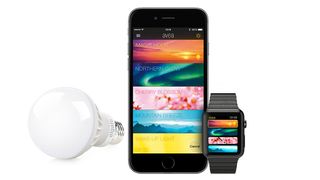 Elgato Avea • £20 per bulb
Philips' groundbreaking Hue system has become literally a blazing beacon for other smart lighting manufacturers, who are beginning to offer similar solutions at slightly more affordable prices.
Elgato Avea is the latest to offer dynamic mood lighting with smartphone control, and it does so directly over Bluetooth Low Energy, so you don't need yet another hub, or bridge device. What it also offers is a particularly clever Apple Watch app for wearable control of potentially every light in your house.
Each 7W LED bulb delivers either warm white, or coloured light and because Bluetooth is built in, you can address it within seconds from your iPhone, with no need for a bridge to your home Wi-Fi network.
Add more Avea bulbs and they automatically sync together making setupespecially easy. What's more, the iOS and WatchOS apps already have a selection of 'fun' and relaxing mood scenes preset. Just tap 'Caribbean Sea' on your Watch, for example, and the whole house turns turquoise.
Like Hue, it has a Wake Up function, which gradually brightens from the time your alarm goes off. You can use your Apple Watch app to adjust it.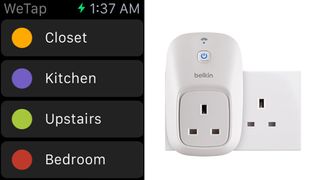 WeTap! for Belkin WeMo app • £30 • App £1.49
Belkin WeMo Switches potenitally turn any old appliance into a connected smart device. It's basically a mains socket switch that can connect to your home Wi-Fi network so you can turn it on using your phone or, via this app, your Watch.
Belkin's WeMo range of automation products are great for smart home DIY projects because they enable you to make existing circuits, like your motorised garage door for instance, addressable over Wi-Fi and with the WeTap! App, that means you can trigger them from your wrist. Just drive towards your garage and tap the screen of your Apple Watch to raise the door. Or if you want a more immediate, and seasonal example, how about activating your electric blanket from your wrist a few minutes before bedtime?
The WeTap! WatchOS app is a logical extension of the iOS app, presenting your various WeMo Switches on the home screen. Choose a switch and throw it to activate, or turn off whatever device is plugged in. It works with WeMo Light bulbs too. We should point out at this stage that Wemo products can be horribly buggy and prone to losing connection, but if you're a real home automation enthusiast you'll probably just build regular reboots and loud swearing into your routine. We have.