There's something particularly exciting about a product launch in a new country and when it comes to smart home appliances, there really is no exception. Brands such as Ultenic and Shark have recently made some of their latest models available in the UK, allowing their product reviews to reach far and wide and sales to accelerate. Well, Versuni (previously knowns as Philips Domestic Appliances) did exactly the same last week and brought its latest robot vacuum cleaner to the UK, the Philips HomeRun 7000 Series.
At a first glance, it's clear that the the Philips HomeRun 7000 Series is up there with some of the best robot vacuum cleaners on the current market. It delivers ultra-strong suction power and vacuums and mops in one go, as well as detecting small items in the way and cleans around them without getting stuck. Whilst it's got a higher price point than other robot vacs, its list of features certainly seems to justify why it would be an expensive purchase. It's also available in two attractive designs to fit in with any home interior: Deep Black and Gold (XU7100/01) and Silk White and Gold (XU7100/02). The white Auto-Empty station is finished with a water-repellent fabric that is easy to maintain.
Before you find out more, have you ever considered whether you'd be best suited to a cordless vacuum cleaner or robot vacuum cleaner? Have a read of our comparison guide to find out for yourself!
Philips HomeRun 7000 Series: Price and availability
The Philips HomeRun 7000 Series is available on Amazon for £799.99. As it's so new to the UK, Amazon is currently the only retailer but we're sure this will expand in the not too distant future. The previous model, the Philips HomeRun 3000 Series, is also available on Amazon but is priced at £599.99.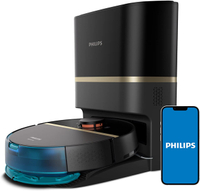 Philips HomeRun 7000 Series: £799.99 at Amazon
The Philips HomeRun 7000 Series Robot vacuum cleaner with mop has an ultra-strong suction power of 5000 Pa, laser navigation, 180 min run time, self emptying robotic cleaner for carpet and pet hair and an accompanying app
Philips HomeRun 7000 Series: Features
Ultra strong suction power
The Philips HomeRun 7000 Series vacuums and mops hard floors in one go to tackle the fine layer of dust that builds up on floors every day. Its ultra-strong suction power can also pick up large dirt, like crumbs and pet hair. It takes care of the everyday dirt build-up underfoot, as well as removing finer dust from deep within crevices, carpets and rugs.
Detects and avoids small items in the way like shoes or toys
It will detect and avoid small items in the way, such as shoes or toys, and clean closely around them without getting stuck or bumping into things. The 3D ToF sensor located at the front of the robot can detect items as small as 2.0 x 2.0 cm and can continuously detect what lies in front and alongside the robot. The sensors work even in low light situations, so you don't need to keep the lights on when you are away from home.
Self-emptying function
The robot empties itself automatically into the Auto-Empty Station in less than 30 seconds, using Philips Dual Wave technology. Due to its special airflow simultaneously sucking and pushing, nothing is left behind, not even long hairs. The station contains a 3.0 litre disposable, anti-allergy bag that can hold up to 30 days worth of dust, hairs and other dirt, to enjoy 30 days with no hassle of emptying. The bag can be hygienically disposed of without a cloud of dust - ideal for asthma and allergy sufferers.
Intuitive and easy-to-use app
The Philips HomeRun robot app has been designed to be user-friendly and intuitive - ideal for first time users. It features step-by-step guidance and helpful videos to ensure you're getting the very best out of your robot. The app communicates with your robot to control, report and update on its cleaning performance wherever you are, showing in real time where the robot has cleaned. You can also select on the map which room(s) should be cleaned in what order. For each room you can specify a cleaning mode, for example Wet and Dry for a regular cleaning of hard floors in the living room, Dry to vacuum only in the bedroom and Intensive for a thorough cleaning of the kitchen. If you wish, you can customise settings like suction power or wetness of the mop.
Vibrating mop that's gentle but effective
The washable mop is made of ultra-fine fibres to efficiently remove 99.99% of bacteria caused by germ carriers like dirty shoes and pet hairs. Its vibrating mop technology removes foot prints gently yet effectively to provide next-level cleaning beyond just vacuuming. The 240 ml water tank allows the robot to mop 130 sqm without refill.
Cleans up to 180 minutes on a single battery charge
The powerful 5200 mAh Li-Ion battery ensures a run time of up to 180 minutes, enough for up to 185 sq.m. When the battery runs low, the robot will automatically return to the station to recharge. Once the battery is charged, it will return to the place where it left off to resume the cleaning.
Cleans in hard-to-reach places
Thanks to its low height (97 mm) it cleans also in hard-to-reach areas under sofas, beds and other furniture. For a more thorough cleaning, the robot uses its side brush to sweep along edges, to bring dirt to the suction inlet. The robot can move around your home without manual help. It can effortlessly cross hurdles up to 20 mm, for example drive over door thresholds and onto carpets or rugs. Plus, six anti-drop sensors are located on the bottom of the robot to prevent it from falling from a height or down stairs.
Still hungry for more vacuum cleaner knowledge? Check our our maintenance guides for more information:
How to clean a vacuum cleaner: tips for cordless, handheld & robot vacuums
3 mistakes everyone makes with robot vacuum cleaners
How to save money on vacuum cleaners