If you're looking to turn your phone into a brilliant gaming phone, you're going to need some assistance. While some titles have fairly intuitive on-screen controls, I've yet to play one that really matches up with the experience on a top console controller.
Fortunately, there's a solution. The Backbone One is a brilliant accessory, which clamps onto your device, giving a more familiar control layout. There are options for iPhone, Android phones and even a PS5 edition which more closely resembles that controller.
Now, you can snag one for even less. In this brilliant Amazon Prime Day deal, you can pick up the Backbone One for just £69.99 at Amazon – saving £30!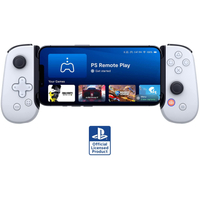 Backbone One: was £99.99, now £69.99 at Amazon
Save £30 on the Backbone One this Amazon Prime Day. Simply pop your phone into the cradle and enjoy an even better mobile gaming experience.
The Backbone system offers a plug-and-play experience that is effortlessly simple to use. Simply pop your phone into the device and you're good to go. Any controller-supported game will be playable, with the added responsiveness of a physical gamepad.
Mobile games like Call of Duty: Mobile and Genshin Impact will work perfectly. Plus, users can hook the Backbone up to their cloud gaming service of choice. This allows you to play your favourite games on a mobile console, from anywhere with an internet connection.
Platforms like PlayStation Remote Play and Xbox Remote Play are included, as well as a host of others. The Backbone app acts as an all-in-one launcher, keeping all of your favourite games from different platforms in one place. Simply load up the app and pick out a title from any of your libraries, without having to load each one individually.
All of that for just £69.99? That seems like a no-brainer to me. Even if – like me – you're a more casual gamer, this should give you a more familiar experience to improve the quality of the time you spend gaming.