While the best watches on the market can set you back thousands – heck, even millions if you've got a particularly acquired taste – that might not be feasible for everyone. Particularly if you've never worn a watch before, you might just want something cheap and cheerful to test the water.
Fortunately, there are a lot of models which excel at that – including the iconic Timex Weekender. This no nonsense watch takes inspiration from field watches. It's simple and elegant – and it's 40% off right now!
Pick up the Timex Weekender in black for just £36.10 at Amazon. It's perfect for getting a taste for watches, without breaking the bank.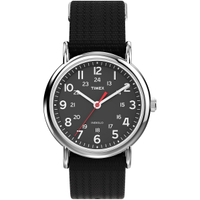 Timex Weekender: was £60, now £36.10 at Amazon
Save 40% on the Timex Weekender. This watch is perfect for getting a taste for the industry, without busting the bank. It's also a useful beater watch if you already have a collection of more premium pieces.
The Weekender is a staple of the affordable watch industry. It's not really hard to see why, either.
Especially in this classy black hue, it's a real do-it-all timepiece. The field watch DNA is sporty enough for casual settings – this definitely wouldn't look out of place with a t-shirt and jeans – but it could easily cope with more formal settings, too. Pair it with a black suit and it would do fine in the office, for example.
Inside, you'll find a reliable quartz movement, with up to 10 years of battery life on offer. That's cased in brass, unusually, and offers a respectable 30m of water resistance.
The black dial is overlaid with white hour and minute hands, and a red seconds hand. That's joined by numerals around the dial, with 24-hour numerals inside. It's really easy to read, with no other complications to contend with.
It's also great for use in the dark, thanks to the Indiglo dial. That makes the whole watch face light up after being exposed to sunlight, making it easier than ever to read the time, even without light.
At just £36.10, this really does feel like a sensible purchase for just about anyone. Whether you're looking for a first model to see if you could enjoy wearing a watch, or you're a seasoned collector looking for a cheap watch for certain occasions, this is a lot of timepiece for not a lot of cash.
Oh, and if you get the bug really quickly, be sure to check out this list of 5 watches I'd buy in the current sales.