It may be a week before official Black Friday weekend begins, but we're already seeing stacks of the best Black Friday deals arrive early. In particular it's Argos' Black Friday offers that are standing out, as in addition to a great PS5 console deal there's also this sudden price cut to one of the PS5's best exclusive games.
I'm talking about Horizon: Forbidden West, here in its PS5 format so you'll get the best graphics, which has dropped to under £20 in the sales. It's cheaper at Argos than you'll find anywhere else, including the best Amazon Black Friday sales, which makes it an absolute steal in my opinion!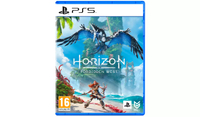 Horizon Forbidden West (PS5): was £59.99, now £19.99 at Argos
If you're looking for a top PS5 gaming deal and want to add an epic exclusive game to your library – it's T3 Tech Editor's fave release of last year – then the Horizon sequel is a stunning title at an even more stunning price. Playing as Aloy, you'll traverse a futuristic world filled with robotic dinosaurs and try to solve a potentially apocalyptic issue. No other retailer is selling for as little as this either.
Released in early 2022, I've spent many hours playing Forbidden West trying to 100% the game's every intricacy and had a lot of fun doing so. It's great to see the PS5 launch such epic exclusive games, especially when Xbox has been luring me away with Black Friday deal potential – although I missed out on EE's lowest-ever Xbox Series X price!
Ultimately it's all gamers who win here though, as if you've been yet to pick up the disc version of Aloy's spectacular sequel then, at this price, you have no excuse to not get it on your shopping list. Despite T3's reviewer only awarding the game 4-stars, for me it's a 5-star behemoth – and I'm sure other gamers will agree with me.