Grabbing one of the best video doorbells on the market is a great addition to your home. They offer unparalleled security and features that make it easier than ever to keep an eye on things when you're away.
If you want the best on the market, you'll want a Ring Video Doorbell. They're the most popular brand, and that comes with good reason. These devices are effortless to use, easy to install and offer everything you need.
Right now, there's a great deal on the 2nd Generation doorbell. Paired with the Ring Chime – a plug and play speaker that connects to all of your Ring devices to ensure you hear when someone is at the door – you can grab everything you need to kickstart your home security for just $94.99 at Amazon.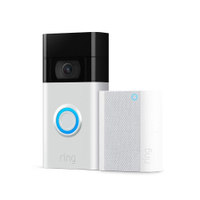 So, what can you use a video doorbell for? Well, obviously, you can use it just like you would a regular doorbell. With the included Ring Chime, users can press the doorbell button and you'll hear the chime indoors.
If you're not home, though, you can pull up the app on your phone and have a live two-way conversation with your visitors. That means you can tell friends and family to come back another time, or give instructions for a delivery to be placed in a safe place.
You'll also get notifications if motion is detected on the camera. That's great for security, allowing you to know if someone is on your property. The live video feed will allow you to watch over things too, while history lets you view footage of detected motion over time.
All-in-all, it's a great addition. Whether you've already got a range of smart home products, or this will be your first one, you really can't go wrong – especially at this price!