Mmmm, hot chocolate. Mmmmm… best ever deal prices. Mmmmmmmmm… Sorry, got a bit distracted for a moment there. Now, if you've had your eye on the Velvetiser for a while, you're in luck today. You can get the Hotel Chocolat Velvetiser for half price. That repeats a deal which was a smash hit with velvety chocolate lovers on Black Friday. The only 'catch', if you will, is that you'll have to sign up for a subscription to Hotel Chocolat's delicious, velvety chocolate. This will cost you from £27 per month. That's no great hardship, surely?
However, if you just want to save money on the Velvetiser device itself, and then fill it with chocolate of your own choice, possibly costing a fair bit less, there is more good news today. The Velvetiser is also available with £30 off without a subscription. All you have to do is sign up for a Hotel Chocolat VIP.me account – or sign in, if you're already a member.
View the Hotel Chocolat Velvetiser deals (takes you to Hotel Chocolat)
View more of the best Velvetiser deals on T3 (although none of them can match this!
To view the Velvetiser deal at Hotel Chocolat, click the link above or keep reading for more details. The brand describes this as their Best Ever Deal, and who are we to argue? The product is excellent, and must be among the best-selling home gadgets in the UK at this point, if not the best selling.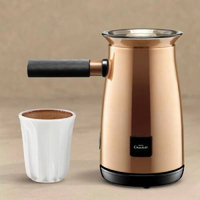 The Velvetiser Hot Chocolate Maker was £99.95 now £49.95 or £69.95 at Hotel Chocolat
Save £50 (half price) if you sign up for a chocolate subscription of 6 or 12 months, or £30 (30%) if you don't, just by signing up for Hotel Chocolat VIP.me membership scheme. If you opt for the first option there are numerous delicious flavours to choose from, including hazelnut, chilli and orange infused chocolate. And if you don't, well, there's always the chocolate aisle at Lidl.
Originally priced at £99.95, Hotel Chocolat is offering the Velvetiser for just £49.95, if you sign up to a 6 or 12 month Velvetiser refill subscription. This £50 price drop not only cuts the Velvetiser to half price, but this is the lowest price the Velvetiser has ever been and you're unlikely to find it this cheap anywhere else.
The Velvetiser is an innovative kitchen appliance that uses Dualit engineering to make indulgent hot chocolate drinks that are rich, fluffy and perfectly whipped. Available in platinum, white, satin black, copper and charcoal colours, the Velvetiser is a handy gadget to have in your kitchen or it would make a perfect Christmas gift for someone who loves hot chocolate. For all the specs, see our 5-star Hotel Chocolat Velvetiser review.
Before you add the Velvetiser to your basket, make sure to click the button that says 'Buy with subscription for £49.95 (SAVE £50)'. From there, you can build your monthly Velvetiser plan by choosing the colour machine you want and the 6 or 12 month refill plan. Depending on which plan you choose, you'll receive 1 box of hot chocolate sachets every month for 12 months or 2 boxes a month for 6 months.
For the £30 off deal, you'll need to sign up and sign in to VIP.me to get the tasty, lip-smacking discount with no need for a long-term choccy subscription.