When you're in a serious gaming session, you wouldn't deliberately choose to play anything but the best games that the Xbox Series X (or PC) has to offer right? Then why use a sub-standard gamepad? The Xbox Elite Controller Series 2 is Microsoft's own crack at creating the perfect controller for your console, and it's a pretty compelling case.
Now, the Xbox Elite Controller Series 2 (Core Edition) is on sale for Amazon's Prime Big Deal Days event, it's down 15% to just £98. That's just £1 more than the lowest price we've ever seen for the controller.
But is it worth the upgrade? The simple answer if you play a lot of PC or Xbox games is yes. The longer answer: absolutely yes.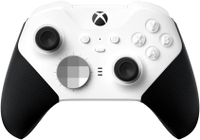 Xbox Elite Controller Series 2 (Core Edition): was £114 now £98 at Amazon
If you're serious about gaming then you need a serious controller. The Xbox Elite Controller Series 2 offers a boosted battery life, programmable inputs and a host of other upgrades that make it well worth the money.
Not only does it look super slick, but it boasts a host of extra features too. Most usefully, it boosts the battery life from 30 to 40 hours and spells the end of your battery buying days as it is fully rechargeable.
With 20 of the 24 inputs being customisable, it's perfect for playing your own way, but if you do want to let others have a turn then you're in luck. The controller boasts multiple 'profiles' meaning different users can assign different control setups they have saved. If you're a competitive type then you'll appreciate the adjustable thumb sticks and hair triggers that pay dividends in shooter titles especially.
There is a more expensive 'hardcore' edition of this controller but functionally they are nearly identical. In all honesty having a spare set of thumbsticks, a spare D-pad, a carry case and a charging dock is nice but far from essential. The only major drawback is the lack of rear paddles for extra inputs but these can be purchased separately for a fraction of the price difference.
If you're after anything gaming related, check out our best Prime Day gaming deals where we collate the best offers out there.