The Google Pixel 7a is Google's latest in its entry-level Pixel range. Designed to offer great value for money, those who take Google up on this deal will get even more bang for their buck, as long as it's before Monday. That's because, until the 22nd of May, Google is throwing in a pair of its Pixel Buds A-Series for free!
This deal is exclusive to the official Google Store and the true wireless earbuds, usually around £99.99, are a great accompaniment to a phone with plenty worth shouting about.
Performing at a level well above its £449 price point, the Google Pixel 7a's key features include a much improved 64MP camera with game-changing optical image stabilisation and priority access to Android 14 with Google's own Pixel first features. Under the sleek exterior, the Pixel 7a features Google's own Tensor G2 processor, the same as the Pixel 7 Pro, and a significant upgrade to the 6a's first-generation chip. At this price, you won't find a better-performing phone.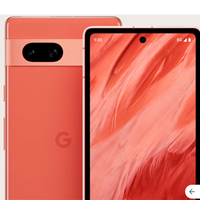 Google Pixel 7a (with free Pixel Buds A-Series): now £449 at Google
Premium performance at an affordable price, the Pixel 7a is a well-rounded package offering the latest Android features, a slick camera and impressive performance specs. Available in a range of colours and with a set of free Pixel Buds A-Series thrown in, this is a great deal.
Google is also offering a chance to get this phone at a borderline ridiculous price when you trade in an old handset, with up to £220 further discount. Those looking to express themselves with the rather bold Coral colour can only find it on the Google store.
If the announcement of the Pixel Fold has you excited (understandable) but its £1700+ price tag terrifies you (also understandable), the Pixel 7a is a great way to see what Google's latest take on Android looks like. Without breaking the bank. Those who do fancy pre-ordering the Pixel Fold can enjoy a free Google Pixel Watch, however.