EA Sports FC 24 isn't even a month old but the successor to FIFA has already gotten a major discount for Amazon Prime Day.
This Ballon d'Or worthy deal sees EA Sports FC (PS5) at just £59.99 on Amazon, a £10 saving for a start, but it also comes with a £10 PlayStation store voucher too. Many will want to use that gift card for packs in the ever-popular Ultimate Team game mode, but in truth, it can be spent on anything across the PlayStation Store.
This year's game may have a new name but it still has all of the features (and more) of the FIFA franchise, but if you've been tempted to get back into the beautiful game, this is also a great place to start.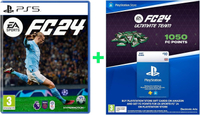 EA Sports FC 24 + £10 PlayStation Store gift card: was £78 now £59 at Amazon
For the FIFA fan in your life, this is the spiritual successor to the series, it still has all of the same game modes and a plethora of official player licenses.
New this year is the inclusion of female players in the Ultimate Team mode and a revamped manager mode experience, as well as a host of gameplay changes.
There are a variety of things new to EA Sports FC 24. The most notable is the addition of female players to Ultimate Team, this is a great addition that essentially doubles the pool of players available. Using some of the England stars of the last World Cup is particularly fun with the likes of Lauren Hemp, Rachel Daly and Alessia Russo all present and great fun to use. There's also the brand-new evolution mechanic that gives users the chance to make some of the less viable players into hidden gems.
Outside of Ultimate Team, Pro Clubs mode once again returns and Career Mode ha has received an overhaul with the new ability to hire individual coaches to turn your no-hopers into superstars.