Now that we're into Black Friday week some genuinely great deals are surfacing: a colleague has already spotted the Nintendo Switch OLED with Mario Kart for under £300, its lowest-yet bundle price, for example. But when you buy Nintendo's console, great as it is, there's really not a lot of on-board storage.
Fortunately you can grab a microSD card to expand your Switch's storage – I've written about the best Black Friday Nintendo Switch storage expansion options already – so you can continue to store your save games and buy more titles without running into problems. And as part of the best Black Friday deals, I've also spotted the cheapest-ever price on this official Nintendo Switch and SanDisk 128GB card...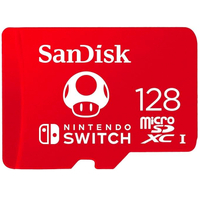 Nintendo Switch 128GB SanDisk microSD card: was £28.10, now £13.24 at Amazon
I love these official Nintendo microSD cards: available with various emblems, from a Mario mushroom to Apex Legends or Zelda Triforce symbols, there are lots of cute visual options. Not only that, you get assured transfer speeds from this UHS-I type card from reputed storage-maker SanDisk.
Yes, I know, it's just a microSD card and, yes, that's kind of boring! But sometimes the best deals to surface in the sales are those not-so-exciting-yet-essential products – and for me having a Switch with expanded storage is an absolute essential. Even if you've owned a Switch for a long time, it might only be now that you need to expand upon its base storage.
Thus far I think gaming deals are where Black Friday has hit its stride best. After years of PlayStation committal, I finally took the plunge and ordered the best Xbox Series X deal I've ever seen (mainly just so I can play Starfield). But there are yet more: my T3 Tech partner in crime has written up a best Black Friday games deals under £20 post, in which there are some crackers to consider across all platforms!
So regardless of its boring nature, I still reckon this SanDisk and Nintendo official microSD card partnership is one of the best essential deals you'll find over Black Friday (the prices are better than during Amazon Prime Day, as I've verified using third-party price-tracker CamelCamelCamel) – and, actually, it's a really great gift or stocking filler option (another T3 colleague has written up a wider best stocking filler deals for Christmas that's also worth a read!).