The Nintendo Switch is nothing short of incredible. More than 132 million of them have been sold worldwide and the console's popularity shows no signs of faltering.
That's largely thanks to the hardware tweaks Nintendo has been making to the system since its launch in 2017, with the latest and greatest version being the Nintendo Switch OLED model – which is now available in an unbeatable Cyber Monday deal.
Nintendo itself is offering a Nintendo Switch OLED, a copy of one of its best games, Mario Kart 8 Deluxe, and 3-months of Nintendo Switch Online, all for £309.
However, I've found an even better deal for the same bundle – Amazon is offering the package for just £299 – a saving of more than £60 in total.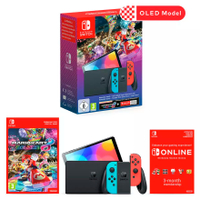 Nintendo Switch OLED Mario Kart 8 bundle + Switch Online: was £366.97, now £299 at Amazon
This Nintendo Switch bundle includes the Switch OLED model, a downloadable copy of Mario Kart 8 Deluxe, and 3-months' membership to Nintendo Switch Online, which is a saving of £66.98 if bought individually.
Why buy the Nintendo Switch OLED model?
Nintendo updated its Switch console in 2021 with a new, larger screen that, most importantly, switched the display technology to OLED. This gives you a better viewing angle, greater contrast, and superb colour saturation.
The Nintendo Switch OLED model also comes with expanded internal storage (to 64GB), slightly improved battery life, and an Ethernet port on the newer TV dock.
Mario Kart 8 Deluxe is arguably the best family game available for the Switch, being a greatly enhanced version of the racing game originally released on the Nintendo Wii U. Over the last couple of years, Nintendo has also released a tonne of new tracks for the game, to expand the experience further.
If you're not too bothered by the OLED display and extra functionality, you might be able to get great Black Friday deals on other Nintendo Switch models too. Just check out our deal tracker below to see if there are any major discounts on the original Switch or portably Switch Lite.