Deals and discounts on YETI products are few and far between as the brand very rarely drops its prices... hang on! It might just be eyes playing tricks with me, but there seem to be heap-loads of YETI Black Friday deals going on right now at Amazon. You know what? I don't care if these were posted by mistake, I'm buying them right now.
Shop all YETI Black Friday deals at Amazon
YETI is best known for its cool boxes, but the company offers a wide variety of products, including the tote bag I'm obsessed with, thermos flasks, dog bowls, backpacks and more. Essentially, if the product category has anything to do with being outdoors and active, YETI will have a version of it.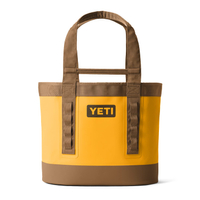 YETI Camino 35 Carryall Tote Bag: 30% off select Alpine Yellow colorway at Amazon
It's waterproof, puncture-proof, easy to access and carry and looks wonderful – what's not to like about the YETI Camino 35 Carryall Tote Bag? Currently, Amazon is selling the yellow colorway for 30% less, so make sure you grab one while stocks last!
Other YETI deals you should check out can be found below. I'd recommend the Rambler mug, which not only looks lovely, but it's also highly functional.