This week it's all about Amazon Prime Day 2 (as I like to call it), or Amazon Prime Big Deal Days (as Amazon prefers to officially call it), with some of the best deals expected between now and the event's close at the end of Wednesday 11 October.
I've set up alerts and scoured Amazon for some of the best deals in tech and have stumbled upon this little gem for those PlayStation 5 users looking to upgrade: the officially licensed WD_Black SN850 SSD, in its 1TB form, has a stellar 50% cut from its asking price.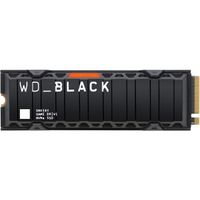 WD_Black SN850 for PS5: was £179.99, now £89.99 at Amazon.co.uk
If you're looking to expand your PS5's storage using an officially licenced SSD then the Western Digital range is just the ticket. Its SN850 range complete with heatsink is ideal and we're now seeing prices cut by half, such as this 1TB model with 50% off the list price. Bar-gain!
I've previously installed a WD_Black SN850 into my own PS5 – here's a step-by-step picture guide to make it easy – and have been impressed by the additional storage capacity. I bought a 500GB one, though, which at the time cost about the same as this 1TB option!
The WD_Black options are officially licensed for PlayStation 5, as they come with a built-in heatsink, and hit the required read/write rates that are specific to PS5, in order to be able to nest information between that and on the on-board superfast SSD, which is a requirement for certain games to run correctly.
I think the asking price is solid, too, although having looked on CamelCamelCamel (the price-monitoring site) interestingly the same drive was a fiver cheaper for a brief spell just last month. That does give me hope that it'll drop again for Big Deal Days proper – so if you're not yet committed to buy today then you can use this Amazon Alexa hack to highlight deals and price drops for you. Happy shopping, fellow gamers!