Sometimes, you only have to go as far as the brand's own website to find the most compelling deals. Case in point, GoPro has a sweet offer that adds an Enduro battery and a 32GD microSD card FOR FREE when you buy the latest and greatest of all the best GoPros, the GoPro Hero 12 Black.
We appreciate that you might have expected 50% off the new GoPro, but let's be realistic here. The Hero 12 Black has only just been released, and you'd have to wait at least a few months for the action camera price to drop. To keep an eye out for cheap GoPro offers, we recommend bookmarking the page linked in this sentence. For now, this pretty decent add-on deal should do.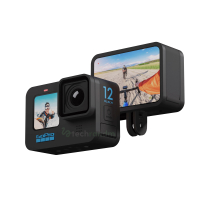 GoPro Hero 12 Black Accessory Bundle: Save £40 at GoPro
Buy a new GoPro Hero 12 Black and get an extra Enduro battery and a 32GB microSD card for free at GoPro, saving you £40 on the best GoPro to date. The brand says the "Offer [is] subject to change without notice," so we'd recommend not waiting around for too long if you fancy getting your hands on this bundle!
The GoPro Hero 12 Black builds on the two decades' worth of innovation that made GoPro the best action camera manufacturer and adds some exciting new features that will delight amateurs and pros alike.
Better still, the Hero 12 Black is sold for the same price the Hero 11 Black was sold for GoPro Members, but this time around, you don't need the membership to unlock the lower price. Essentially, you get a more competent action cam for no extra money. That's a pretty good deal, people!
Of the new features, the HDR video is probably the one that'll make most people happy. It helps those action shots pop a little bit more, making #shotonGoPro videos even more exciting to look at. Not to mention the ability to record vertical videos on the camera, allowing you to create attention-grabbing footage for social media without post-processing in the Quik app.
If you want the best action camera, you need the GoPro Hero 12 Black. Simple as that.