In many ways, the GoPro Hero 11 Black is the ultimate incremental evolution of the best action camera. It's a better camera than the GoPro Hero 10 Black in several areas and identical in most of the others you can measure. Thanks to this discount, you can now own what many consider the ultimate action cam for $100 less at Amazon – a real bargain!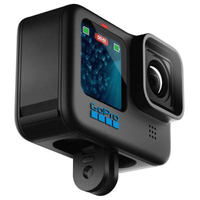 GoPro HERO11 Black: was $500, now $400 at Amazon
GoPro's most capable action camera, the HERO11 Black, has a large image sensor and industry-leading image stabilization and can shoot videos in buttery-smooth 5.3K60 and 4K120 resolution. It's also waterproof to 33ft and has a front-facing display so that you can frame those selfies better. Now $100 off, but probably not for long!
If you've ever used an action camera, you know creating awe-inspiring footage requires high dynamic range, crisp, high-resolution sensor and almost perfect image stabilization. The GoPro HERO11 has all of these and then some!
The HyperSmooth 5.0 technology raises the bar even more with Horizon Lock, improved stabilization for 4:3 aspect ratio footage, thanks to the new, larger image sensor, and AutoBoost for maximum stabilization with minimal image cropping.
The HERO11 Black's 5.3K video gives you 91% more resolution than 4K cameras and 665% more than 1080p. Better still, the water-repelling lens cover helps eliminate lens flare and other artefacts, making your stills and footage even more stunning. Plus, record 2.7K240 video that can be played back in 8x slo-mo to catch details that can't be seen at normal speed, like water droplets.