It was only on Amazon Prime Day that we finally saw the PS5 going on offer, but even then that deal doesn't compare to this bundle at Currys.
A 5-star console that offers true next-gen gameplay, it's only just become easier to get a PS5 at all but we hope you don't have Stormtrooper aim because this Currys offer of £399, including Lego Star Wars is not a deal to miss.
Normally £499, even if you don't fancy the game, this new price is a great offer on the console alone. This bundle features the disc drive edition of the PS5, which normally retails for £479.

Of course, this price includes a DualSense controller as well. This pad is a revolutionary bit of gaming tech with haptic feedback and adaptive triggers helping you feel the action and stay immersed. The PS5 is also an audio innovator too with 3D audio great for those with one of the best gaming headsets or just using your normal speakers.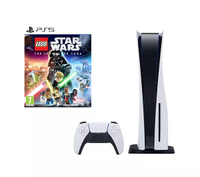 SONY PlayStation 5 & LEGO Star Wars: The Skywalker Saga Bundle: was £499 now £399 at Currys
The uber-popular gaming console that is leading the market right now, the PS5 brings haptic feedback, ray tracing and 4K graphics to your living room. Bundled with LEGO Star Wars: The Skywalker Saga you'll be able to play through all 9 Star Wars movies.
Any console lives and dies on the quality of the games on offer and luckily the PS5 has some fantastic ones. As well as third-party titles like Overwatch 2 and the upcoming EA Sports 24, there are a bunch of industry-leading exclusives like Ratchet & Clank: Rift Apart, Gran Turismo 7 and God of War: Ragnarok that you won't find on Xbox.
As for the LEGO Star Wars: The Skywalker Saga this game paints all 9 mainline movies in a whole new light. If you're shopping for a little one it's the perfect game to play in split-screen co-op (you will need two controllers) while big kids will appreciate the ability to play as literally hundreds of characters from across the Star Wars universe, from Darth Vader to a Gonk Droid.