When contemplating the best watches, your mind may travel to luxurious mechanical timepieces. The market is awash with goodies at all price points, from the cheerful Seiko 5 to sumptuous Patek Phillippe references.
But if you're looking purely at the functionality of a watch, there are almost always better options. And the better option is almost always this Casio G-Shock reference.
It packs in a wealth of complications, has perfect timekeeping and is tougher than a steel-toed boot. Plus, right now, it's even cheaper – pick it up for just £79.99 at Argos!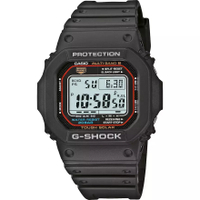 Casio G-Shock GW-M5610U-1ER: was £99.99, now £79.99 at Argos
Snag this iconic G-Shock for just £79.99 in this early Black Friday deal. It's one of the most complete watches on the market, and is built to outlive the wrist it's worn on.
It's not too much of an exaggeration to say this is the best watch your money can buy. Sure, the one-piece resin case and strap doesn't have the wow factor of polished metals, but what's on the inside sure makes up for the slightly juvenile exterior.
You'll find a world timer function on board, as well as a day-date complication. For users in the UK and Europe, this updated model will even allow you to use the correct DD/MM date format.
You'll find 200m of water resistance on board, making it the perfect choice for withstanding the rigors of day-to-day life. Plus, it's a G-Shock, so it can deal with all kinds of bumps, falls and knocks that could send other watches limping in defeat. They say, at the end of the world, all that will be left are the roaches and the G-Shock.
Then, there's the timekeeping itself. This is pretty much the most accurate watch you can buy – and no, that's not just because it's a quartz watch. It's because this watch uses a multi-band 6 radio link, to synchronise with the Atomic Clock. That means that the watch will always be as accurate as possible.
On top of that, it's a Solar powered watch. That means, if you can keep it in the sunlight enough, you might never need to replace the battery, simply topping it up with the power of the sun, instead.
It's often said that every watch collection needs a G-Shock. It's a great sentiment to have – these little resin-covered timepieces are brilliant workhorses. And frankly, if you're going to buy any G-Shock, this is probably the one to pick. It's chock-full of features and is built to last.
Plus, with deals like this, it really is a bargain. For £79.99, this is a great watch for anyone – whether it's the only watch you'll ever use, or just the latest in a long line of well-chosen watches.