The iPhone 15 is now on sale, with the new devices delivering USB-C for the first time in Apple's flagship phone series – whether you've gone for iPhone 15, iPhone 15 Plus, iPhone 15 Pro, or iPhone 15 Pro Max (with its insane camera).
I've got the iPhone 15 Pro in for testing myself, but while I've got plenty of USB-C cables and sockets around the house, I'm particularly keen on wireless charging. Good job that the iPhone 15 series works with MagSafe, then, and I've spotted this official Apple charger with a 15% discount ahead of Amazon Prime Day 2 next week.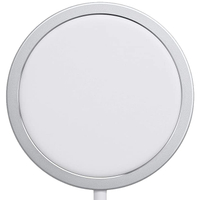 Apple MagSafe Charger: was $39.00, now $33 at Amazon.com
"Make wireless charging a snap" is the sell of Apple's official MagSafe charger: you simply need to attach the Qi charging disc to the back of your iPhone (from 12 onwards) using the magnetic attachment mechanism. It's super-easy and will then charge at 15W, refilling the battery at pace.
I think it's the perfect accessory for iPhone and AirPods users, both of which are compatible with wireless charging. Sure, it might look kind of boring, as it's just a charger, but this snap-on disc is a great accessory that every Apple user should down.
A 20W adapter at the wall is recommended, sold separately, or you might want to consider the dual USB-C charger that's also on sale (which I wrote about last week) in order to provide wired and wireless solutions all in one place.
This MagSafe charger is an official Apple product, too, no third-party knock-off here, and the Amazon reviews are very strong: it's landed a 4.5/5 rating from a massive 64,229 verified reviews (at the time of writing), making this highly-commended magnetic adaptor well worth its discounted price. Best grab it before Amazon Prime Day 2 before it's gone!