I've been writing about Amazon Prime Day deals for many years now, picking out the greatest deals from the wash of not-so-good stuff – which is why T3 has a variety of top-picks in our Prime Day Deals feature. But I stumbled upon one deal that's close to my heart today, as it's my favourite PlayStation 5 exclusive game ever.
I'm not talking about the biggest seller ever though, instead a family favourite that really united myself and my siblings over 'those weird 2020 years' (you know what I'm talking about). Sackboy: A Big Adventure is simply the most joyous platform game I've ever seen and played, with a difficulty curve that is so perfect it'll suck in newcomers and elites alike (and everyone in between).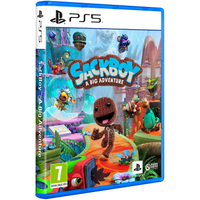 Sackboy A Big Adventure (PS5): was £59.99, now £31.75 at Amazon.co.uk
Save 47% – You'll only find Sumo Digital's game exclusively on PlayStation (well, ok, and on PC), with the PS5 version giving you truly the best graphical playthrough. And while graphics aren't everything, this Sackboy adventure looks eye-wateringly beautiful at times. Now half price, my favourite ever PlayStation game is perfectly priced for you to experience its sheer joy factor too.
I've been gaming for the majority of my life; as a six-year-old playing Sonic the Hedgehog, through to the present day digging into Zelda on my Nintendo Switch, and heaps of mobile games too. Genuinely, however, Sackboy sits up there with me among my all-time greats; it's got the makings of a true classic, I'm just not sure it ever found the mass audience it deserved.
It's a clear entry in our Best Prime Day Gaming Deals post, too, which features other games and accessories which you may want to check out to pick up a bargain too. Or perhaps you're also seeking one of the Best PS5 Headsets to up your game (I vouch for the official Pulse 3D Wireless, it's amazing, should you be looking).
Anyway, back to Sackboy: this half-price deal doesn't appear to be intrinsically linked to the Amazon Prime Day deals, i.e. I think it may continue to run after the sales event's 12 July finish date, but if stock runs low with people snapping up this stellar (and frankly underrated) game then don't be kicking yourself that you didn't get to try it out for yourself...