We don't usually cover foody-type things here at T3, but when I noticed the Oreo Grenade bar box was on offer in the Amazon Prime Day sale I asked if we could make an exception. Not only is this my favourite protein bar, but I can say with absolute confidence that it's the best out there and now you can get a box of 12 for under £20 – what a deal!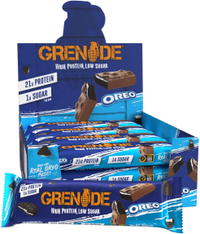 Grenade High Protein Oreo Bar: was £30.99, now £17.65
Save a massive 43% off a box of these delicious Oreo bars, covered in smooth milk chocolate, containing 21g of protein and only 1g of sugar. A sweet treat you won't feel guilty to indulge in.
If you love Oreos, then you honestly can't go wrong with the Oreo Grenade bar. It's not like other protein bars that have a slight hint of whatever they claim to taste like, with a strong after taste of whey protein. This is an Oreo biscuit coated in milk chocolate and it tastes absolutely delicious. Plus, it's the perfect sweet treat that you won't feel guilty to indulge in. I enjoy melting mine a bit by dunking it in my tea, but soft or hard, it's a biccy that you'll love.
Recently, Grenade also released the white Oreo bar, which is also in Prime Day sale too! Although not as cheap as the milk chocolate Oreo bar, you can still get a box of 12 for £25. Either way, whether you're still yet to try this protein bar, or if you're already a fan, don't do a me and spend around £15 a week buying them singularly, take advantage of this deal instead. Also, don't forget to check out the other fitness deals in the Prime Day sale too.