I've just found the best Black Friday deal on the Hotel Chocolat Velvetiser that you're not going to want to miss!
View the Hotel Chocolat Velvetiser deal
The Black Friday sales are well and truly underway, and as Home Editor for T3, I've been searching far and wide for the best prices on home and kitchen essentials. If you can't get enough of hot chocolate, the Hotel Chocolat Velvetiser makes indulgent and delicious hot chocolate that's fluffy, velvety and ready to drink in minutes… and for Black Friday, it's at its lowest ever price!
Originally priced at £109.95, the Velvetiser is now just £89.98, saving you £20.01 on this premium hot chocolate maker. The best Velvetiser deal I've seen in a while, this price cut marks the first time in a year for the Velvetiser to hit this new low price so if you've wanted to get your hands on it for a while, now is your chance!
To view the Hotel Chocolat Velvetiser deal, click the link above or head over to the best Amazon Black Friday deals for more offers like this.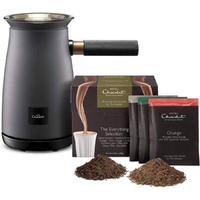 Hotel Chocolat Velvetiser Hot Chocolate Machine Complete Starter Kit: was £109.95, now £89.98 at Amazon
Save £20.01 on the Hotel Chocolat Velvetiser in the Amazon Black Friday sale. It uses an innovative velvetising process to whip up your hot chocolate for creamy, smooth and aerated textures and flavours. The Velvetiser has a sleek and attractive design, and the handle can easily be used both left handed and right handed. Available in white.
The 5-star Velvetiser is one of the most popular drink makers on the market today. It uses flakes of real chocolate to make barista-grade hot chocolate in just 2 and a half minutes. In this deal, the Velvetiser comes as a starter kit, which contains the Velvetiser machine, two ceramic cups and 10 hot chocolate sachets, including milky, salted caramel, classic, hazelnut, orange, chilli, ginger, mint, vanilla, white and 85% dark. See the full Hotel Chocolat Velvetiser review for more details.
Fancy more Velvetiser deals? If you buy the Velvetiser directly from Hotel Chocolat and sign up for a monthly Velvetiser plan, you can get £50 off! All you have to do is select the colour you want and choose between a six or 12-month Velvetiser Refill subscription. Once you've done that, you can buy the Velvetiser for just £49.95 at Hotel Chocolat.