Could this be deal of the year? If you're on the hunt for a new iPhone 15 Pro Max then buying one for a mere $0.01 without trade-in sure looks like it! That's right: a brand-new top-tier Apple flagship, i.e. the best iPhone of 2023, for just one cent.
How is this possible? November increasingly has become the month of best Black Friday deals (albeit all month long) and this Amazon deal certainly falls into that. It won't last forever, however, and you'll need to be willing and able to sign up to a 36-month Boost Infinite plan at $60 a month.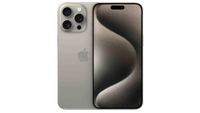 Apple iPhone 15 Pro Max: was $1,299, now $0.01 on Amazon
For once it's not too good to be true: you could pick up Apple's latest and best iPhone, the 15 Pro Max, for a mere cent. No trade-in required. This is effectively a 100% discount off the normal price – just ensure you buy the 512GB capacity model, as that's also included in the deal (the 256GB and 128GB models are also available but you'll miss out on added value)!
This iPhone deal easily betters what was seen from the second-of-the-year Amazon Prime Day, which took place earlier last month, and will be hard to beat. Sure, there's the $60 outlay per month, but that's fairly normal for a cell phone plan and the uplift you'll be getting from the handset is obvious.
T3's iPhone 15 Pro Max praised the device, calling out its new titanium enclosure for making it "lighter and stronger than ever", plus an even greater camera array and USB-C charging for the first time has brought the iPhone right up to date as one of the best phones money can buy. Although, in this case, not a lot of money can buy!
My only word of caution is that the 36-month contract is a full three-year commitment. This isn't a quick annual or two-year deal, you'll need to be paying Boost Mobile for the duration. But it's worth it, thanks to the iPhone 15 Pro Max's long battery life and super camera arrangement. Besides, you might find a trade-in rears its head mid-term when the iPhone 16 arrives...