When it comes to the best Android phones you can buy right now, the Google Pixel 7 Pro is at the top of the list. Featuring a powerful Tensor G2 processor and a seriously impressive camera, the Pixel 7 Pro has won over many users – including our reviewer, who gave it five stars!
One of the best bits about the Pixel 7 Pro is its price. It substantially undercuts other flagships, offering a premium experience at a price point that is much more manageable for most people. And now, thanks to the Amazon Spring Sale, you can pick it up for even less.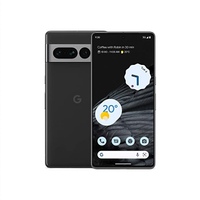 Google Pixel 7 Pro: was £849, now £669 at Amazon
The Pixel 7 Pro offers a flagship-level experience without the matching price tag. You'll get brilliant cameras and intelligent, AI-powered functionality that makes it a breeze to use – and even lighter on your wallet!
Right now, you can snag the Pixel 7 Pro in black for just £669 on Amazon – that's a saving of over 20%! Our pick of the bunch is the Hazel colour, but you'll pay a tad more for that one – it's £745 right now. There's also a white option at £715.
That's edging dangerously close to mid-range territory. In fact, at £669, it's almost half the price of the Samsung Galaxy S23 Ultra – a phone which is widely seen as the standard for Android lovers.
As a Google phone, you can also expect seamless integration with Android 13 and the suite of Google apps. You'll also get a host of really useful features, like the ability to translate conversations in 48 different languages in real time, with Live Translate. That's a feature I absolutely adore, and have used to great effect in the past when out of my comfort zone.
Plus, with the Adaptive Battery, which learns your usage habits and makes adjustments to squeeze every last drop out of the 5,000mAh cell, you'll easily tear through a full day of use with no worries. Google claim that their Extreme Battery Saver can even go up to 72 hours, by limiting processes even more.
In all, this might be the best deal I've seen yet in the Amazon Spring Sale. You're getting a superbly capable handset for a total bargain price. That sounds like a no-brainer to me.