Okay, so labelling this Garmin Fenix 7X Solar offer as a cheap Garmin deal would be a bit of a push, but it's good enough, by all means and purposes, to be mentioned, especially considering how good this watch is. In fact, this is the Garmin watch I currently use, so I can wholeheartedly recommend it to everyone who likes being out and about and needs a premium wearable wrapped around their wrist.
But the Garmin Fenix 7X Solar is more than just a posh outdoor watch. It has offline topographic maps, all the smart features under the sun, durable construction, and, most importantly, a physical flashlight built into the case. It's a bit big, though, so if you have a smaller wrist, I'd recommend getting this Garmin Instinct 2 deal (now £249.99, down from £318.20).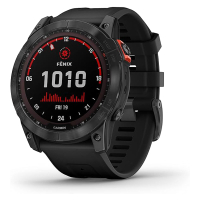 Garmin Fenix 7X Solar: was £779.99, now £539.99 at Amazon
The Garmin Fenix 7X is a beast of a smartwatch, better than the already impressive Fenix 6, one of the most popular outdoor watches in recent history. Like previous Fenix models, the Fenix 7X is big, bold, and works well as an outdoor, running and triathlon watch. Now 31% off, for one day only!
Is this deal not quite your cup of tea? Amazon has tons of excellent Garmin offers on as part of Prime Big Deal Days, which is just a funny name for Prime Days numero dos. Some of the highlights we've already covered include this Instinct Solar offer and this Venu 2 deal. Today's the last day of Amazon's two-day shopping event – don't miss out!