Last month, PlayStation announced a range of Fortnite-themed PS4 bundles including headsets, Dualshock 4, and a couple of bundles that include consoles but all of them include some tasty Fortnite goodies in the form of the Epic Neo Versa Outfit, the Epic Neo Phrenzy Back Bling, and 2,000 V-Bucks.
Right now at GAME, you can pick up one such PS4 console bundle for a whopping £70 off. Check it out below before the circle closes: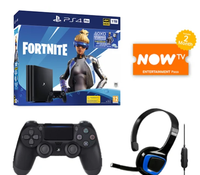 1TB PlayStation 4 + Dualshock 4 wireless controller + GAMEware PS4 Chat Headset + NOW TV 2 Months Entertainment Pass
GAME is offering up this limited edition bundle for £329, saving you £70 off the usual price of £399.97. The headset usually retails for a tenner, and isn't going to be fantastic, but if you have offspring in the house who also enjoy playing Fortnite, you can throw it their way without worrying about them breaking it.

The exclusive Fortnite skin is a big selling-point for fans of the game, especially with the rotating store that makes any limited time outfits sought-after commodities, and you'll get 2,000 V-Bucks on top of that to fritter away over at the in-game store.
And as we've seen with recent PS4 bundles, a NOW TV Entertainment pass has been thrown in for two whole months.
There's no all-digital PS4, so if you're trying to ditch physical media, a 1TB console is what you'll want, without having to worry about space. It's a great deal if you're looking to upgrade from a 500GB console or if you're looking to expand your console collection by adding a piece of Sony hardware to your living room.