The Garmin Forerunner 245 has been the best running watch for a couple of years now as it represents great value for money for athletes who take running seriously. That said, getting one before was still a bit of an investment; until now! This amazing running wearable is now only £149 at Amazon. Get it while it's hot!
• Shop the best Garmin watch deals at Amazon right now (opens in new tab)
It can be pretty intimidating for the uninitiated to navigate the sea of Garmin Black Friday deals. It's not like an average person browses running watch deals all day long and can determine whether a 'new' deal is good or not. Lucky for you, this is what we do here at T3: we track prices all day long, and we now have a live blog of the best Garmin and Fitbit Cyber Monday deals for your viewing pleasure.
In this roundup, we have the best ever Forerunner 245 offer included – this Black Friday based on historical data and our own intuition. Sure, it might look like an excellent deal to get a Garmin fēnix 6S Pro for £389 (£211 off), but it was cheaper before Black Friday, so you might want to reconsider that purchase.
Instead, check out the below deals. We crunched the numbers to determine which prices were reasonable and how much was the real price drop. For the best offers on wearables and fitness tech, check out the best Bowflex deals, best Fitbit deals and best fitness deals overall.
Best (real) Garmin Black Friday deals at Amazon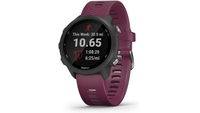 (opens in new tab)
Garmin Forerunner 245: was £249.99, now £149 at Amazon (opens in new tab)
The Garmin Forerunner 245 is a fantastic running watch. As a matter of fact, it was crowned as 'Best Running Watch' at the most recent T3 Awards. It usually sells for around £200, so this is an excellent deal! For beginner to intermediate runners, this is the watch to go for, especially at this price point.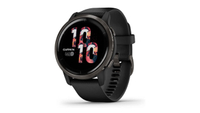 (opens in new tab)
Garmin Venu 2S: was £349.99, now £235 at Amazon (opens in new tab)
We're thrilled to see the Venu 2 is so cheap this Black Friday. It's a fabulous fitness tracker-cum-smartwatch that's also part running watch, so you get the best of all worlds. It was already cheaper before this offer (it was sold around £265-ish), but it's even more affordable now. An incredible price for an excellent watch!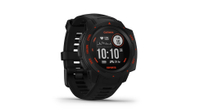 (opens in new tab)
Garmin Instinct: was £269.99, now £119 at Amazon (opens in new tab)
We are not going to lie; even if the Instinct were sold for £119 most of the time, we'd recommend it. But a month ago it was sold for £270, and now it's 56% off. That's crazy. The Instinct is the smaller sibling of the Fenix 6: it's rugged and capable of tracking a wide range of health metrics.
Why should you get a Garmin watch this Black Friday
For those interested in improving running performance, getting a Garmin watch even at full price is a good investment. Apart from the basic and old models, most Garmin watches have the Garmin Coach feature onboard, an adaptive coach on your wrist that can train you to run your next 5K, 10K or half marathon faster.
Plus, they all have pretty accurate heart rate sensors and fast a GPS chip, both of which are essential if you take training seriously. You can always get a fitness tracker such as the Fitbit Versa 3 or the Fitbit Charge 5 for tracking outdoor runs, but the readings from these wearables are going to be estimations at best.
Not to mention, Garmin sends software updates to its watches constantly, updating the sensors all the time. This ensures that the watches stay accurate even years after they were released. Better still, Garmin has its own operating system, so you don't have to worry about the brand suddenly not supporting older watches.