Black Friday is, thankfully, still months away, but if you're like me, you want to get your shopping done as soon as possible just to avoid the mad rush around the annual shopping event. So, instead of waiting around for the best Black Friday deals to materialise, I opted for checking out what's on offer now. Surprise-surprise, I came across a brilliant Apple Watch accessory deal that I simply won't be able to miss.
Shop all Apple accessories by Belkin at Amazon
Belkin is one of those manufacturers that Apple pushes on its website, so it's safe to assume the brand produces high-quality products. The one that caught my eye was the Belkin 3-in-1 Wireless Charging Station, which is a compact device that can charge my Apple Watch Series 8, Apple AirPods Pro 2 and iPhone 14 at the same time. Sweet!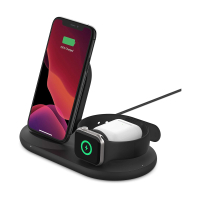 Belkin 3-in-1 Wireless Charging Station: was £99.99, now £74.99 at Amazon
Belkin's all-in-one wireless charging solution wirelessly charges three devices at once and delivers fast wireless charging for Qi-enabled iPhones at 7.5 watts, Apple Watch and AirPods at 5 watts. Now 25% off at Amazon! Please note: the product isn't compatible with iPhone 12 Mini and Apple Watch Ultra.
If there is one thing I hate about testing and reviewing the best smartwatches and best running headphones for a living, it is the sheer amount of charging cables surrounding me. Even if I didn't have three headphones and four watches on test, there is only so much space on my standing desk at home that I can corner off for gadget charging purposes.
I'm already a proud owner of the Belkin BoostCharge Pro (external link), but that's more of a travel accessory than a permanent charger for my Apple things. The Belkin 3-in-1 Wireless Charging Station is the perfect addition to my desk setup: it removes three charging cables and replaces them with one. And the base looks compact enough not to take up all the space, either.