Getting a good night's sleep is so beneficial to your physical, mental and emotional health. A major part of how well you sleep at night can be narrowed down to how comfortable you are and how supported you feel, so it's incredibly important to make sure you've got the best mattress to serve this purpose.
If you're looking for a mattress that provides pressure-relieving support and has a comfortable luxurious feel, take a look at Ergoflex. Launched in 2006, Ergoflex specialises in memory foam bed accessories and essentials that deliver a long-lasting performance. Right now at Ergoflex, you can get 45% off the bestselling Ergoflex 5G mattress – more details below.
Get 45% off the Ergoflex 5G mattress with code SAVE45
One of the highest rated bed-in-a-box mattress brands, Ergoflex designs and constructs memory foam mattresses, pillows and protectors that are made from premium materials that support the body and deliver a restful sleep.
If you suffer from back pain or back issues in general, the Ergoflex 5G mattress is specially designed to relieve pressure and support in every area of your body to minimise muscular stress and strain. It's made up of 5-layers of visco-elastic memory foam, with a high density memory foam top layer and a 9cm memory foam layer depth. All the layers in the Ergoflex 5G mattress work together to create a breathable and comfortable surface that moulds to and cradles the body, plus it regulates temperature and air flow at the same time.
Depending on the size you choose, you can save up to £368 on the Ergoflex 5G mattress with this discount code deal. The Ergoflex 5G is available in single, double, euro double, king, euro king and super king sizes.
According to many sleep reports, mattresses should be replaced every 6-8 years so if your mattress is looking old, damaged or saggy, it might be time to consider buying a new one. For T3 readers, Ergoflex is offering 45% off the Ergoflex 5G mattress when you use the code SAVE45.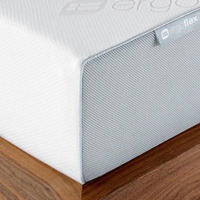 Ergoflex 5G Mattress (Double): was £809, now £445 at Ergoflex
The Ergoflex 5G mattress is a multilayer memory foam mattress, with a deep top layer and a high-resilience base layer. The mattress is encased in a removable and washable outer cover which adds more comfort while also protecting the mattress. Beneath the layers of memory foam is a Cool-Sleep airflow system that gets rid of excess heat, regulates core temperature and allows the mattress to breathe. It's an incredibly comfortable supportive mattress that's ideal for people with back and hip problems.
To complete your sleep setup, Ergoflex also has memory foam pillows, mattress protectors and linen bedding. The protectors and pillows are made of the Ergoflex advanced memory foam and work well alongside the Ergoflex 5G mattress for extra comfort and support.
For 45% off the Ergoflex 5G mattress, simply enter the code SAVE45 at the checkout.