With the Easter break just around the corner you might want to take advantage of this tablet deal to keep your little rascals busy at family get-togethers during the holiday period when school is out.
View the Fire HD 10 Kids tablet deal at Amazon
Amazon makes a bunch of the best tablets for kids, specifically designed for children and with parental controls to ensure peace of mind when buying one and avoiding any unwanted surprises.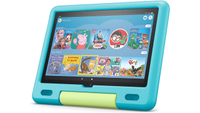 Amazon Fire HD 10 Kids tablet: was £209.99 now £149.99 at Amazon
This 5-star Amazon tablet specifically designed for your kids is now available for a cut of its usual price. As the name hints, this 10-inch tablet delivers an HD resolution that's ideal for your kids' play and education. You can buy one with peace of mind, too, as the tablet has parental controls so you're always in control.
With over 28% chopped off the usual price, the Fire HD 10 Kids Editon tablet is a penny under the £150 mark, which makes it great value for Amazon's larger-scale tablet for kids. There are smaller and cheaper options available in the range, but the bigger screen real-estate here is ideal for interactivity.
The Fire HD 10 Kids packs in a 10.1-inch display with a 1,920 x 1,200 resolution. That's a greater-than Full HD resolution, so it's like holding a miniaturised TV in your hand with all the sharpness and detail you could want at this scale.
This deal seems like a pre-cursor to Amazon's Spring Sale officially kicking off, which runs from 6pm BST Monday 27 March through to the end of Wednesday 29 March 2023. Keep your eyes peeled for other bargains, as there's sure to be some of the best fitness trackers, best TVs, and more featured over the coming days.