Yes, I know it's only November. Yes, I know Christmas is still six weeks away. You're probably rolling your eyes at me by now, but let me ask you one thing. Why wait until December when Black Friday is the perfect time to get an incredible Christmas tree for an even more incredible price?
Shops such as John Lewis, The Range and Very have all gotten in the Black Friday mood early, bringing you some wonderful deals and discounts that will be sure to get your festive senses tingling. Whether you're looking for a tree garnished with a sprinkling of snow, one with illuminated with glorious LEDs or even just a plain one (we won't judge), there's plenty of deals available for everyone.
As mentioned, Black Friday weekend is still a few weeks away so we expect the Christmas tree discounts to keep coming. Below are the ones we've found so far, but make sure to keep an eye on this page as we update it.
Before you have a look, make sure to read our guide on how to make your Christmas tree part of your smart home. We've also done a round up of the best smart Christmas tree lights if you're interested as well!

Best Current Christmas Tree Discounts 2023
Balsam Hill: up to 50% off and free delivery on trees and decorations
The Range: up to 50% off trees, lights and decorations
Christmas Tree World: up to 60% off trees
Very Home: save up to £80 across the entire Christmas tree range
Robert Dyas: save up to £25 on trees, wreaths and lights
Wayfair: save across all Christmas trees with fast delivery
Amazon: up to 20% off trees, wreaths and decorations
John Lewis: up to 20% off best-selling Christmas trees
Habitat: up to a third off Christmas trees
Best Black Friday Christmas Tree Deals 2023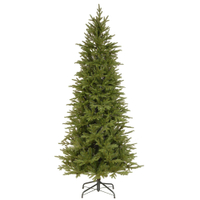 6.5ft Bedminster Spruce Slim Feel-Real Artificial Christmas Tree: was £279.99, now £159.99 at Hayes Garden World (save £120)
This slim 6.5ft Bedminster Spruce will easily fit into a corner if you are short of space or is ideal if you want to decorate a hallway or landing. It has a mix of realistic, tapering PE & PVC branches with a good number of tips for a slim tree offering plenty of places to hang your decorations.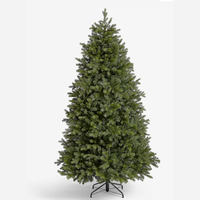 John Lewis Sherwood Spruce Green Unlit Christmas Tree (7ft): was £250, now £199.20 at John Lewis (save £51)
This bushy, artificial Christmas tree has 2393 flexible, realistically-shaded green tips and makes the perfect backdrop to all your decorations. Simple to set up, the hinged branches drop easily into place requiring a small amount of 'tweaking' to create the fullest effect. The tree comes in slot-together sections and a metal stand is included.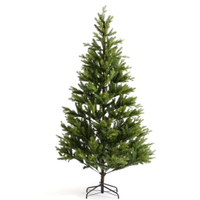 LA REDOUTE Caspar 7ft Artificial Christmas Tree: was £250, now £200 at LA REDOUTE (save £50)
ith a natural look, the 2.10 meter Caspar artificial Christmas tree will make the eyes of young and old alike shine, especially with 20% off!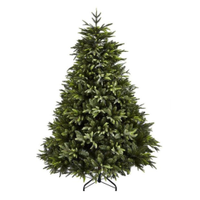 Very Home 7ft Sherwood Real Look Full Christmas Tree: was £249.99, now £209.99 at Very (save £40)
The breathtaking 7ft Sherwood tree is the perfect way to bring the beauty of a real Christmas tree into your home without having to worry about vacuuming pine needles for months afterwards. It's packed with tips for a lush, realistic look, and there's plenty of space for all your decorations, ornaments and fairy lights. Coming complete with a folding metal stand, its hinged branches mean it's easier to set up and take down, so you can spend more time enjoying the effect it has on your space.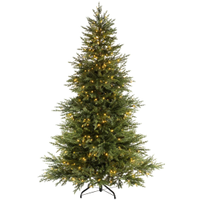 Pre-Lit Traditional Fir Multi-Function Christmas Tree: was £169.99, now £139.99 at We R Christmas (save £30)
This exquisite tree exudes an air of traditional grandiosity, seamlessly fitting into both classic and contemporary settings. With its robust diameter of 120 cm (47 inches), it provides an ample canvas for your cherished ornaments and decorations. Illuminating its dense foliage are 350 warm white LEDs, which bathe your space in a soft, welcoming glow. The tree comes in six different heights, but be quick, they're selling out fast!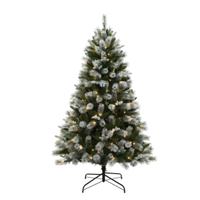 Victoria Christmas Tree (7.5ft): was £229.99, now £199.99 at The Range (save £30)
Standing tall in any living room or home environment, the Victoria Christmas Tree is designed to impress. Boasting intricate yet artificial detailing, this artificial tree is perfect for decorating with charming baubles and ornaments. With a stable metal base and durable hinged branches, this Traditional styled tree, with over 2070 tips is guaranteed to create a centrepiece within any home. It also comes in a 6.5 ft version which is £129.99 reduced from £149.99.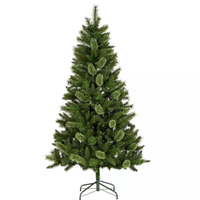 Habitat 6ft Mixed Cashmere Christmas Tree: was £60, now £40 at Habitat (save £20)
Deck your halls with this lifelike seasonal spruce. At 6ft, it's the perfect place to pop your presents. And with its realistic shape and classic Christmas green, it looks fresh from the forest! Easy to assemble, just slot the pieces together and into the base, then lower the hinged branches into place.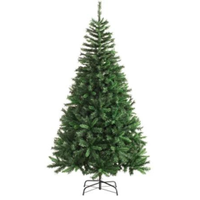 Green Pine Artificial Christmas Tree with Stand: was £56.99, now £39.99 at Wayfair (save £17)
Enjoy this Christmas staple year after year. With branch tips, this artificial Christmas tree has plenty of space for all of your favourite decorations, and it is sure to be the eye-catching centrepiece of your seasonal living room. This tree is made from green PVC plastic and is delivered with a stand.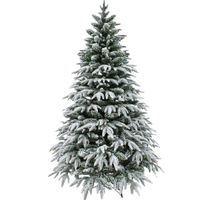 SHATCHI Lapland Fir Covered Artificial Christmas Tree: was £64.99, now £46.99 at Amazon (save £18)
This 4ft elegant artificial Christmas tree offers style and sophistication for a truly luxurious look this festive season. It's quick and easy to assemble tree, making Christmas preparation effortless, and makes the perfect festive centrepiece for your home year after year!
Artificial vs real: which Christmas tree is best?
When it comes to choosing between artificial trees and real trees, it completely depends on what you're looking for. Real Christmas trees are always much better for the environment as they're completely biodegradable and recyclable, which means they can be repurposed for mulch. They also smell wonderful, filling your home with a gorgeous, festive scent.
On the other hand, artificial trees are usually made from plastic and steel, meaning they require more energy to produce and will one day end up in a landfill. However, it has been proven that a fake Christmas tree can have a smaller negative impact on the environment if the customer keeps it for five years or longer. They're also a lot easier to maintain and won't require you to vacuum up pine needles once a day.
Feeling festive? Have a look at our round up of the best advent calendars for 2023!