I've been testing TVs for many years and this one, the Samsung S95C, is an astonishing display of QD-OLED technology, that not only netted a 5-star T3 review this year, it also nabbed the T3 Awards 2023 gong for 'best TV' – so there's no doubting that it's a stellar set.
There's also no doubting that the S95C has just dropped to its lowest-ever price, courtesy of Amazon's Prime Big Deal Days sale, which is currently underway, with the 55-inch model receiving a 35% price cut versus the original retail price. The 65- and 77-inch models are also available at discount, just not quite as hefty a percentage.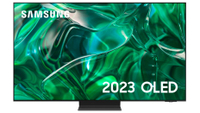 Samsung S95C 55-inch: was £2,399, now £1479 at Amazon.co.uk
If you've been contemplating a new TV then this one is a real crowd-pleaser. A 5-star-scoring and award-winning set, Samsung's QD-OLED format brings the benefits of OLED's inky darkness with enhanced brightness compared to most traditional OLED formats. It looks amazing, especially in dark room conditions.
I've been fortunate enough to review some of the best OLED TVs in 2023 – and the Samsung S95C easily stands up against the competition. It's brighter and better than its S95B predecessor, too, making it an even more compelling purchase – especially at this cut price.
And all thanks to Amazon's Big Deal Days, which is a two-day sale that officially kicked off today (Tuesday 10 October), which I ultimately think of as 'Amazon Prime Day 2'. It's an opportunity to shop for some of the best Prime TV deals, with this 2023 Samsung model a particular highlight. There are others, of course, with a 65-inch LG C3 OLED another standout deal.
While the price of the S95C isn't tiny, it's still a significant reduction. I've been using independent price-monitoring site CamelCamelCamel to ensure it's the real deal, which clearly shows it's the cheapest it's been to date. I can't find the set for less elsewhere, either, so Amazon looks like your best shot if you've been waiting on buying one of the best 2023 TVs... now is your chance!