You can now order the new, slimmer PlayStation 5 – if you live in the US, at least.
As previously announced by Sony, the new PS5 model, which is 30% smaller than the launch edition, has been released in the States first. It will then launch in other countries, including the UK, soon after.
The original date set by the company was 10 November, so listings on retail sites like Walmart and Dell have jumped the gun a tad. However, it will be officially available when shipping starts.
A pleasant surprise is that early adopters of the new version will get Marvel's Spider-Man 2 essentially thrown in for free. The bundle on offer includes the new 4K disc drive version of the PS5 plus the superb action-adventure for the price of the console alone.
We're not sure what this means when it comes to the free copy of Call of Duty: Modern Warfare III that's meant to be included with PS5 Slim purchases in the US, but it's still a great deal.
The PS5 Slim plus Spider-Man 2 is currently being listed for $499. That's considerably cheaper than other bundles that contain the game and older PlayStation 5 models.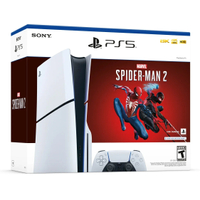 PlayStation 5 Disc Console Slim - Marvel's Spider-Man 2 Bundle: was $559.99, now $499 at Walmart
Get the brand new version of the PS5 with the latest Spider-Man 2 game with a healthy $60 discount.
The new PlayStation 5 is essentially the same as the older model on the inside, but the main new feature is that the disc drive can be removed on the new version. That means little for those who buy the disc edition, but if you opt for the new PS5 Digital Edition now, you can add the drive later if you need to. It will be sold as an optional extra.
There's no word yet on when the new console might come to the UK and Europe, although it's unlikely to be too long.
We also suspect that there could be a few decent bundle deals for the original PlayStation 5 this Black Friday, as retailers attempt to clear of old stock.
We'll let you know when we spot any bargains.