If you're looking to buy a pair of the best earbuds then you're in for a treat courtesy of this $20 off deal. That's because Apple's AirPods 3 have had their price cut once again, bringing them down to their lowest-ever price once more.
The critical thing to know about the third-generation AirPods is that they do not offer active noise-canceling (ANC for short), which you'll need to pay more for in other products, such as the AirPods Pro 2, if that's an essential to your wants list.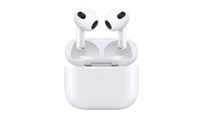 Apple AirPods 3: was $169, now $149 at Amazon
If you don't need active noise-canceling (ANC) then these are the Apple earbuds to buy. This is the lowest-ever price Apple's earbuds have been to date, equalling their previous record. You can also purchase from Best Buy and Walmart.
Where the AirPods 3 really deliver strong is twofold: the ease of connectivity being the reason they're ideal for Apple users; but also the sound quality, which is really impressive for such a small set of in-ear headphones.
So if you've got $149 in your pocket and are looking for some of the best earbuds for Apple users then these AirPods are a clear option. However, there are strong competitors out there, such as the ANC-toting (and pricier) Bose QuietComfort Earbuds II.
Cost is important too, because if you're looking further up the chain then the AirPods Pro 2 will set you back an additional $50, while the AirPods Max over-ears are more than double the cost of those Pro in-ears. So as deals go this AirPods 3 one is right on the money.