When it comes to the best noise-cancelling (ANC) earbuds of 2023 there are some super impressive options available. Apple's AirPods Pro (2nd Gen) are, but of course, high up the list. But, no, it's actually these ANC earbuds that I rate above all others.
I'm talking about the Bose QuietComfort Earbuds 2. I know, not an Apple product, but hear me out. There's a simple reason to consider these over your go-to AirPods grab: because the active noise-cancelling is insane. Believe me here, no other in-ear headphones are better able to cut out surrounding noise than these.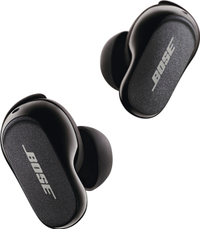 Bose QC Earbuds 2: was $299.99, now $269.99 at Amazon
With active noise-cancelling (ANC) that's truly out of this world, you won't find better earbuds when it comes to ANC technology. Not even Apple's AirPods Pro can beat them on that front as far as I'm concerned. So to see them with any price reduction is a rarity indeed for a product so new.
I know, Bose isn't going to provide certain Apple-specific features, such as speedy connectivity or Spatial Audio, but if you're less fussed about those points are here because you want the absolute best block-out-all-the-noise ANC then, well, the Bose are without compare.
There's so much choice when it comes to the best headphones and the best true wireless earbuds right now that it can be difficult to know where to start. I'd think more holistically about the kind of audio experience you want to have and whether you listen using any device outside of your iPhone, iPad or MacBook though. If you're using a wider range of products then some Apple-specific features won't apply and there the Bose will stand their own in every regard.
I think the QuietComfort Earbuds 2 look pretty smart too, and while they don't come in a pure white finish option I do really like the visual appeal of the 'Soapstone' finish if the standard 'Black' isn't quite to your tastes. So if you're looking for well-made, super-capable truie wireless ANC earbuds then the Bose is my top choice right now.