Male grooming and especially men's skincare is something that's often overlooked by the big beauty brands. However, if you're a man looking for ethical, natural and vegan grooming essentials, skincare and makeup, take a look at Adonis London (opens in new tab).
Launched in 2021, Adonis London is a British grooming and makeup brand, with a focus on empowering men and creating formulas specifically designed with men in mind.
Get 10% off Adonis London with code T310 (opens in new tab)
The Adonis London range of skincare includes moisturisers (opens in new tab), face masks (opens in new tab), exfoliators and makeup (opens in new tab). All formulas are made precisely to work best for men's skin and its natural pH balance, and are designed to keep as much of the natural oils in the skin without clogging up the pores.
Adonis London products feature vegan, cruelty-free, natural and active ingredients, including grapefruit, lavender, frankincense, jojoba, witch hazel, argan oil and aloe vera. Packed full of nutrients and benefits, Adonis London also makes men's makeup including tinted moisturisers and concealer sticks to cover up blemishes and acne scars where necessary.
As male skincare is more niche than women's, a lot of male skincare products are typically quite expensive. Adonis London has incredibly affordable prices, planet-preserving packaging and specially for T3 readers, Adonis London is offering an exclusive discount code T310 for you to get 10% off your full order (opens in new tab).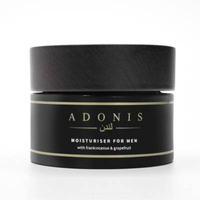 (opens in new tab)
Adonis London Moisturiser for Men: £30 at Adonis London (opens in new tab)
The Moisturiser for Men from Adonis London hydrates the skin and locks in moisture. Ideal for everyday use, this moisturiser has frankincense oil, myrrh oil, grapefruit oil, aloe and shea butter. All these ingredients combined soothes and reduces redness, blemishes and improves skin tone.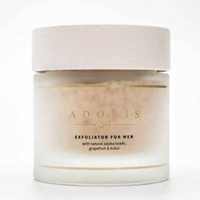 (opens in new tab)
Adonis London Exfoliator for Men: £30 at Adonis London (opens in new tab)
For younger, smoother and brighter skin, the Exfoliator for Men offers a gentle treatment that exfoliates and polishes the skin. With argan oil, sea buckthorn, grapefruit, lime and jojoba beads, this exfoliator has a fragrant scent and prevents damage to the skin. Suitable for all skin types, it can be used twice a week for softer and clearer skin.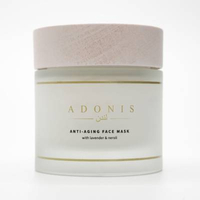 (opens in new tab)
Adonis London Anti-Ageing Face Mask: £40 at Adonis London (opens in new tab)
The Anti-Ageing Face Mask from Adonis London is a firming clay face mask that leaves skin feeling hydrated and rejuvenated. Clay masks are increasingly popular and have many benefits, including soothing and moisturising kaolin clay, shea butter, aloe vera, neroli and lavender extracts. Apply before cleansing, leave on for 15 minutes and rinse off for a better complexion.
For 10% off your Adonis London order, enter the code T310 at the checkout (opens in new tab).