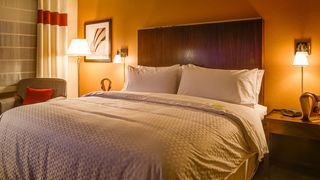 Introduction
Just a few years ago, hotel stays consisted mostly of queues akin to Apple Stores on a launch day at reception, rooms next to the lifts and calling your bank manager to raise collateral for a room service burger.
Now, the Tech Fairy is sprinkling her magic dust all over hotel experiences. And at the forefront of that is Starwood, owner of the Aloft, Four Points and Element brands. They invited us to the Connecticut HQ to wow us their three concept rooms.
Here's what we learned…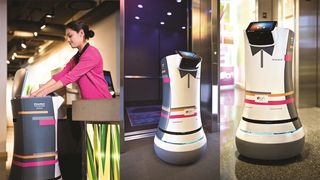 1. Automous
Already in service in Cupertino and Silicon Valley Aloft hotels, the Botlr – see what they did there? – is an autonomous robot with a flip-top head, which will hunt down your room all on its own, and deliver your forgotten toothbrush/shower cap/slipper with a cheeky, anthropomorphic bleep.
You tip him in Tweets, if you can be arsed, as he trundles off on his next, exciting mission. Frankly, he doesn't care. He's a robot.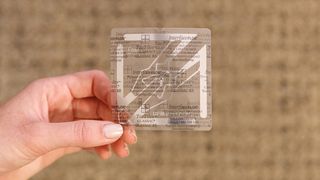 robot butlers
Seriously. Smart carpets. It's a thing to be wowed by carpet tech, but this is pretty sweet. RFID chips embedded in carpets will track you via your mobile app and direct you straight from the lift to your room.
Stick your room service tray outside your door and the carpet will ping a message to housekeeping to send a chap (or robot butler) to retrieve it. And sensors by the side of your bed will know you've stepped on it with a bleeping bladder, and fire up accent lighting in the unfamiliar loo, for quick journeys free from punting table legs, sofas and poufs in the dark.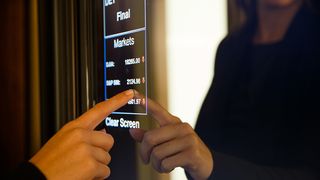 2. Smart carpets
Being developed in conjunction with Panasonic Connected Solutions, these are mirrors packing smart displays, firing up weather apps, news and sports scores. Pull stories down and they'll expand for longer perusal and you'll eventually be able to sync your smart device to add your schedule, messages and apps of choice. As you try to remember how to read, bleary-eyed, you're so jetlagged.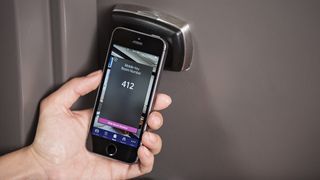 3. Smart mirrors
Not only can Starwood send your key to your SPG app for keyless entry, but when you sidestepped reception and been lighted to your room, it links the entry app to your pre-saved lighting and air-con preferences, creating your bespoke environment, which feels just like home. (If your home has a minibar and loo roll folded into a tidy point, that is.)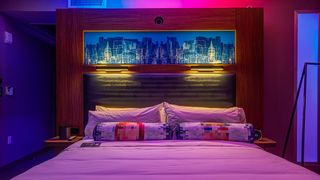 4. Bespoke experiences via apps
With Philips Hue lighting being rolled out to Aloft hotels, a circadian rhythm-pleasing sunset will lull you into the land of nod then – again via an app – you'll set a bespoke wake up, consisting of a natural dawn light to lightly shake you awake, followed by an alarm of your tunes and a timed coffee maker to nose you up with fresh java.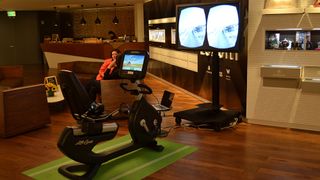 5. Custom wake up call
Oculus Rifts in gyms will transport you out of those soul-destroying, joyless spaces into breezy trips in a selection of compelling venues. We tried out a sunny, lakeside jaunt on a flower-festooned lady bike, with packs of models wheeling past in the other direction. Just don't think of whose sweat you're adding to into the communal headband.
Ew.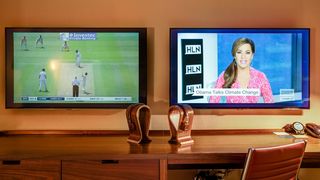 6. VR gyms
He wants to watch the Champions League, she wants to watch Bakeoff. This, and other made up, sexist scenarios can be alleviated at a Four Points, who aim to install two, huge flat screen TVs in every room, served with wireless headphones on each bedside table, alongside a tablet lend. Because God forbid you talk to your better half at any point on your hols.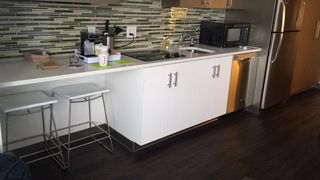 7. Dual flat screens
It's good to be green, right? That's the main thrust of "green" hotel brand Element who are looking in to pave their hotels with "botanol" flooring. It's a tree hugging, wood-effect material made from canola oil, castor oil and chalk with a polyurethane layer. Yum!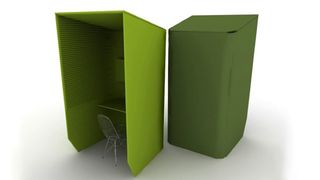 8. Canola oil floors
Businessy types stopping at Four Points hotels will be pleased to welcome the "Buzzibooth" virtual business centre. This is a noise-cancelling cocoon swathed in sound-deadening materials, lending a quiet air to your calls about stock prices, marketing symbiosis and something to do with synergy. Amiright?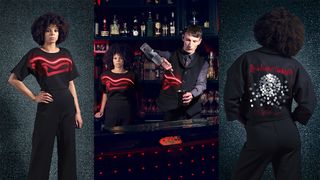 9. Cones of silence
Introduced this week at the "Wyle" nightclub at the W hotel in London's relaxing Leicester Square are "smart uniforms" for the club's staff, designed by fashion pioneer Claire Barrow. LEDs stitched into the nightclub staff's uniforms pulsate to the beats of the club's resident DJs.
These "offer music lovers a new immersive way to enjoy Soho's hottest nightclub" says the hotel. Also a new way to feel nauseous just by looking at employees, presumably.