If you're serious about gaming and have been looking to buy the entry-level Xbox Series S console to sit in front of your best gaming TV, then Microsoft's Black Friday deal makes it a great buy – as from this weekend, 18 November, the price will drop in an early Black Friday promotion.
View the Xbox Series S deal at Microsoft
The Xbox Series S is a great entry point to Microsoft's gaming world, and with $50 off the list price – from Saturday 18 to Monday 27 November – it's back to its lowest-ever price in the United States. The last time we saw this price point was, you guessed it, during last year's Black Friday promotions.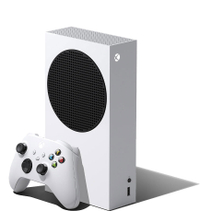 Xbox Series S console: was $299.99, now $249.99 at Microsoft Store
Stylish and more affordable than the Series X console, Microsoft's entry system taps into the slick Xbox ecosystem seamlessly. It also works with Xbox Game Pass Ultimate, as well as today's best streaming services, acting as your do-it-all digital-only entertainment box.
This console is a gamer's dream, with loads of top titles and super graphics. It's not the top-end Xbox Series X console, of course, but for this kind of asking price we're not complaining. And now with even more exclusives confirmed, such as Starfield, there's more reason to buy Microsoft's console than ever before.
Given how close it now is to the holiday period, whether you celebrate Christmas or any other festivities, snapping up a Microsoft console for this end-of-year period could also make it an ideal gift. An Xbox Series S is for life, not just for Thanksgiving, eh?
There are plenty of other console deals to consider too though: from the Xbox Series X (which also has $50 off in this promotion), to the Nintendo Switch OLED, and a few PlayStation 5 stragglers (now it's shifted over to PS5 Slim by default), gamers are spoiled for choice in the current landscape. Happy shopping!